Compliance, advisory services, CAS 1.0, and CAS 2.0. As a CPA firm owner, you might hear these terms thrown around and may be wondering what they mean. In this blog post, I'm going to explain the difference between these strategies and what that looks like in practice.
What Does CAS Mean?
Let's start with the basics. Compliance means "regulatory" services like tax and audit. The services that a traditional CPA firm usually begins by offering. Many CPA firms then move onto offering CAS 1.0, accounting services. These services usually involve payroll, bill pay, bank reconciliations, invoicing, financial statements, and other back-office services. As such, CAS initially stood for Client Accounting Services. However, many firm owners are realizing that there is a gap in services. Small and medium-sized businesses of course need these back-office and regulatory services. However, they also needed advisory services.
These advisory services are usually offered by a CFO, however, it comes as no surprise that not all businesses can afford a full-time CFO. That's where CAS 2.0 services come into play. CAS 2.0 services (also known as Virtual CFO services) include services like cash flow management, forecasting, strategic financial guidance, KPIs and non-financial metrics, and benchmarking. Recognizing the evolving client needs CAS is now referred to as Client Advisory Services and encompasses both advisory and accounting services.
While Jody and I started Summit as a traditional firm in 2002, we quickly saw this gap in the market and transitioned to offering "CAS" services before it was branded as such. Our team offers a full-service stack of services where we lead with advisory services and backfill on an a la carte basis (CAS 1.0) and tax services (Compliance). We typically serve clients that range from $1M-$50MM in annualized revenue. We offer our clients the opportunity to add on or subtract services to their current service packages, so they have the flexibility that they need as they grow. Clients need the whole breadth of these services, and it can be advantageous to offer compliance, CAS 1.0, and CAS 2.0 services, while really honing in on marketing for the advisory side.
Below I'll dive into services you will most likely wish to offer as a CAS 2.0 firm, and our experience offering these services.
What Does a CAS 2.0 Firm Do?
CAS 2.0 services are important for small and medium-sized businesses. Services like cash flow management, forecasting, strategic financial guidance, KPIs, non-financial metrics, and benchmarking are going to help businesses make growth plans and more easily pivot when business circumstances change. However, like we noted above, it's important to offer regulatory and CAS 1.0 services in addition to CAS 2.0 services to provide a well-rounded financial service to your clients. That's why we have three service package offerings. They are designed to meet the needs of business owners in different business stages and provide the services they need at these stages. We also offer a la carte services that let business owners choose back-office services that they may need in addition to their service package. (See below for service packages and a la carte options that we offer as a Virtual CFO firm).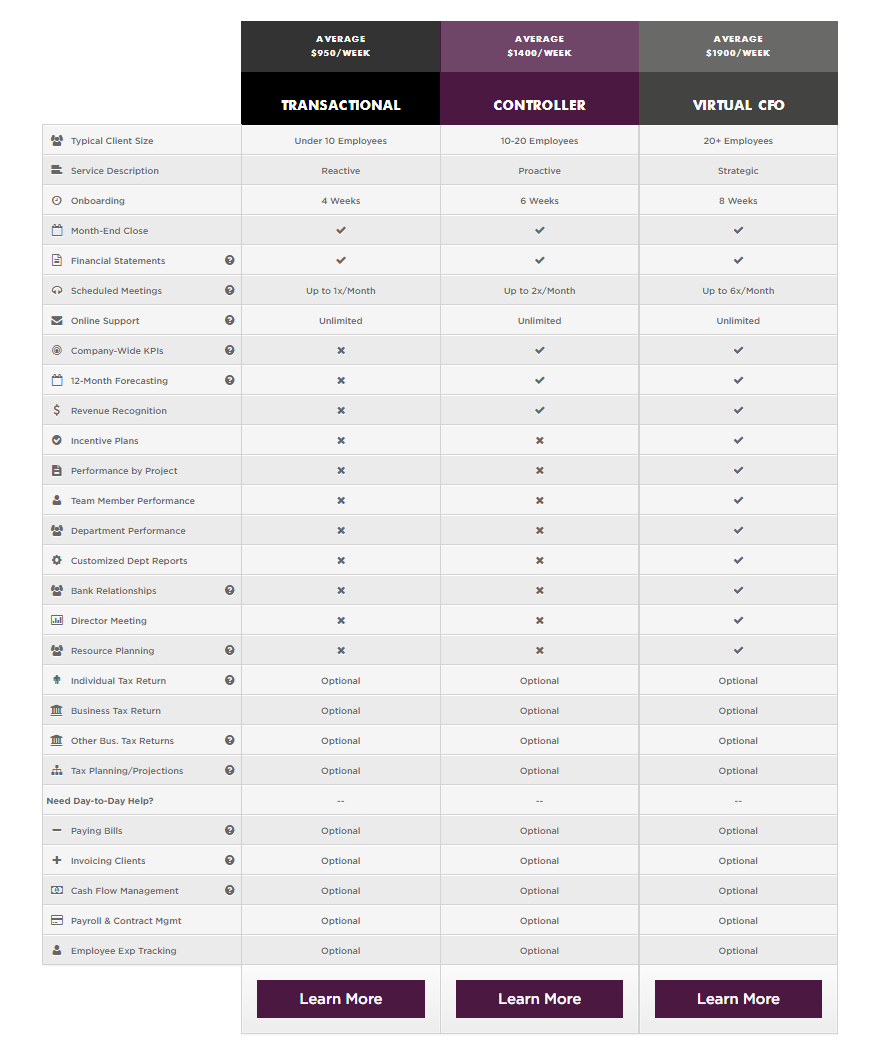 We are transparent with clients and team members about what we are offering in each of our packages.
Creating service packages gives your offering structure. It also helps define for potential clients what you are offering in detail and makes signing up with you much easier.
I hope this blog post helped you understand the difference between compliance services, CAS 1.0 services, and CAS 2.0 services. I want to emphasize the importance of keeping your clients and potential clients in mind when developing your firm's services offerings. Don't assume that your clients only want CAS 2.0 services from you. Likely, you will find that your clients would like all three categories of services and need that support to grow their business or reach other business goals.
To learn more about how our firm launched VCFO services, check out our Virtual CFO Playbook. We dive into how we developed our VCFO firm step-by-step.