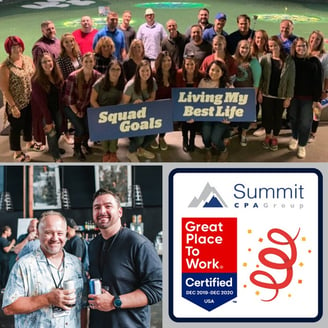 Our Core Values
A company's core values are very important. Core values are the cornerstone of a company's culture. These values define a company -- they are meaningful. Summit CPA Group's Core Values are:
Curiosity: We are eager to understand the "why."
Humor: We like to laugh.
Collaboration: We work together to develop our people and best serve our clients.
Adaptability: We embrace and aggressively pursue change.
Empowerment: We trust our people to do their jobs independently and constantly seek to improve.
Candor: We speak the truth to make our team and clients better
Team Member Benefits
Work from home in a highly productive distributed organization
Flexible schedule, set your own hours
Technology stipend
Education stipend
Health insurance, 401(k) match, disability insurance, incentive program, HSA
We'll cover any certification or state and national licenses / dues
Reimbursement for CPA review course and up to 4 exam sittings


---
FlexJobs listed us alongside other remote companies like Basecamp, Buffer, GitHub, and Zapier as companies who are "embracing the idea that company culture, effectiveness, and productivity can not only survive, but thrive outside a traditional office environment."

Read our listing by Remote.co, which is a resource for all things related to remote work, including a comprehensive list of remote companies, remote jobs and other resources for remote workers.