A Virtual CFO has the capability to provide your small business with much of the same services and expertise as an in-house CFO, only at a fraction of the cost. How is that possible? When you hire an in-house CFO you have a regular salary to pay each week. Whereas, a Virtual CFO provides your business with the services that you need, as you need them. Long term contracts are not necessary and you only pay for services and time rendered. You also save on the cost of office space for your Virtual CFO.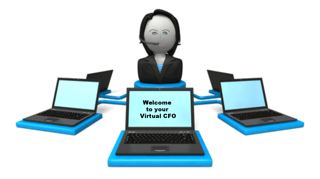 A Virtual CFO has the expertise and ability to work with your current staff by offering guidance in accounting, sales, training and evaluations of staff, as well as future strategic planning.
How do you know if you need a Virtual CFO?

Ask yourself the following questions:
Are you able to sufficiently track and analyze your company's growth and profits?
Do you understand how to use this information to your advantage so that your business can be more profitable?
Are you completing and reporting accurate financial information in a timely manner?
Do you need assistance projecting your cash flow and profits that may have an impact on the future growth of your business?
If you answered yes to any of these questions, you should consider the services offered by a qualified Virtual CFO. Be sure to do your research before hiring a Virtual CFO. Ask for references. Even ask around to other small businesses in your industry to see if they have a Virtual CFO they can recommend.
At Summit CPA we offer multiple resources that will help get your business on the right track. By utilizing our Virtual CFO we have the capability to assist you virtually anywhere in the USA. If you need assistance, contact our office at (855) 977-7623 to schedule an appointment with our advisors.