When is the best time to fix the roof? Before the rain, right? Well, the same is true of your business.
Your business needs a CFO before the figurative rain. And where do you look to check for rain? A forecast. That is exactly what a Virtual CFO (VCFO) provides to your business. Using advisory services and a forecast, they make sure your business can weather any storm.
Is your business doing well? If the answer is no, you probably need a forecast. If your answer is yes, you still probably need a forecast, because your business is either in a peak… or a valley. And if you're on the peak now, you need to prepare for the valley; prepare for the rain before it starts.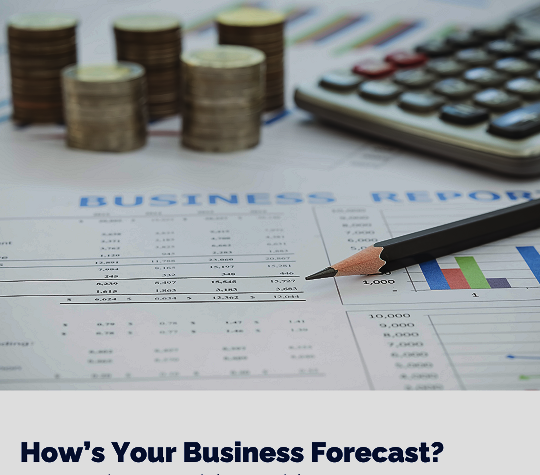 As a business owner, you're passionate about your business and the growth plans you have for it. If you're not in the business of accounting, you might not have the knowledge to create a financial roadmap to success. Where do you want to be in two years? Three years? If you don't plan accordingly, it could mean the difference between the failure or success of your business.
If you need to hire, how many people do you need? If you want to grow your business by 10% next year, what's your plan for achieving that goal? All of this is attainable by a forecast—a projection of where your business needs to be to hit each milestone and benchmark. On the flipside, if the economy goes into a recession, what's your business plan?
The role of a VCFO is more than bookkeeping, closing out the books, or balancing a bank statement. It's taking all those small puzzle pieces and building out the big picture to create an actionable plan for business growth. VCFOs provide business owners with a tailored forecast model so they can achieve the results they want. Without a forecast, it is very difficult to monitor and adjust accordingly to maintain the desired growth trajectory.
VCFOs provide advisory services to help you plan for long-range growth. They gain insights from your business numbers, industry trends, and the economy to help build a plan that aligns with your goals. They also help you think about "best-case" and "worst-case" scenarios, so even if the unexpected happens, you have a playbook and a course of action to take.
What's even more important is keeping the forecast updated on a monthly basis or when an unexpected major event happens. A dynamic forecast allows a Virtual CFO to integrate all the pieces and parts of the puzzle in real time so that, as life happens, your business can pivot accordingly. Your business isn't stagnant, so your forecast shouldn't be either. Our VCFOs are meeting with clients on a weekly basis and updating the business forecast based on the information from these meetings every week.
Having quick access to a forecast gives VCFOs the ability to adequately advise business owners on the financial direction and future of their business. It's a trickledown effect of changes in the industry and changes in the forecast. By the time your business needs to change with the industry, you've got a clear plan of action from your forecast, allowing you to make informed decisions.
As a business owner, you're not just responsible for your business. How many employees do you have? 10, 20, 30? In a way, you're responsible for them and their families because they're depending on you to make payroll. When you have a forecast, you can tweak it as needed to ensure everyone who depends on you and your business can keep their cadence of life. That's where I feel the forecast is most valuable.
Remember, your forecast is never static; it's very dynamic; it's always changing. Something's always going to happen this month that you weren't expecting, good and bad, and it's going to really impact things to where you need to be on top of it. Having an up-to-date forecast and the help of a VCFO and team is going to help you and your business navigate those situations so when the storms in life come, because they will come, you won't be caught off guard.
Are you ready to get an edge on your competitors? At Summit CPA we offer multiple resources and techniques to help you get on the right track to attain your goals. For more information on how we can be of assistance to your company, contact our office at (866) 497-9761 to schedule an appointment with our advisors.