Have you ever thought about quitting your job and traveling the country in a van? Stop the presses. You can travel the country in a van without quitting your job—if you work for a distributed company. If you land your dream job working from home, why not take it a step further and truly enjoy all of the benefits remote work offers? The bigger question: Have you thought through all the details?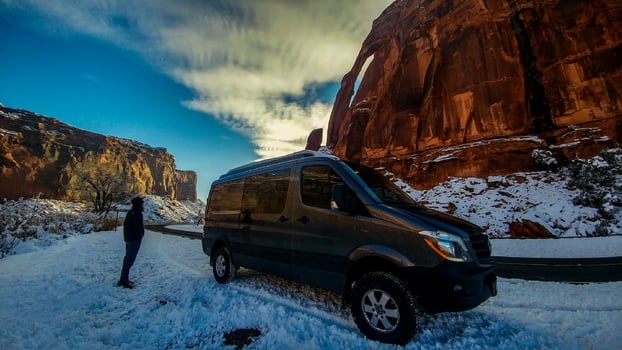 My husband and I are currently traveling the country in a converted sprinter van. We both work full time for remote companies. We are expected to work all week like normal office workers, it just happens that we can move our office with us wherever we go. Where do we go? We enjoy the outdoors. Any place remote and scenic is on our radar. Where don't we go? Cities and coffee shops.
If you're thinking about traveling the country in a van with your remote job, here is a quick guide of things to consider:
Saving Money -- Van Reality: You're not going to save money. Really cold weather, really hot weather, the inability to find a campground with 4g LTE will force you to find a hotel or AirBnB. The van itself is a large investment. Campgrounds are not cheap and neither is fuel.
Internet

– The one item that will make or break any van adventure is Internet. A strong and reliable source is the difference between working on the road and being jobless. We currently have three sources of data. T-Mobile, Verizon and AT&T. Don't expect to get the same price as you do at home. Currently, mobile data is expensive. Beware of the current unlimited plans, most cap or slow any data you use as a hotspot. Satellite data has not come far enough along to do anything more than emails. There is some newer technology out there, but you are unable to move the satellite dish to a new location. If you have face-to-face meetings you will need to be somewhere with 4G LTE service and a data plan to handle all the gigs. This can be a challenge. Many times we have driven into a campground as we watch the bars on the phone drop to nothing. Research helps but current coverage maps won't always tell you that you don't have service behind a grove of trees. Be prepared with multiple carriers and try out the Internet early enough that you can find another place to stay. No one wants to hear your excuses for not being able to work Monday morning when they know you are on the road.
Power

– We currently use Goal Zero solar. This is an expensive option but very compact and easy to use. We decided to not mount solar to the roof as we prefer to park in the shade on a hot sunny day. The panels do take up a large amount of storage space but it's worth it. On a sunny day, we can tuck the van in the shade of a big tree and still get full solar power. Even better we can adjust the solar panels throughout the day to follow the sun without moving the van. We both have dual monitor set-ups in our office and our current setup gives us plenty of power.
Expectations about travel

– We do not travel and play all week. In fact, any travel during the week isn't feasible. Typically we find a place to spend the week by Sunday evening. We can't check out of a campground at noon, pack up and move while we are working. The amazing thing about our setup is once the weekend rolls around -- we are already at a new place to explore. Besides, we are usually in places that are beautiful, so just a glance out the window while I am working during the week is enough to make me happy.
Comfort

– If you like to have all the comforts of home this is not the lifestyle for you. Our bed is only two inches wider than a twin. We use the facilities at whatever campground we are at currently. We have no onboard bathroom. We made this decision on purpose as we didn't want to deal with all that comes with having holding tanks. We also dedicated a large portion of the van to office space—we gotta work! And the office set-up dictated our layout. When it's cold outside, we are cold. When it's hot outside, we are hot. Solar power does not lend itself to air conditioning or heaters. We would like to add a diesel heater but need to save money as these are expensive. For half the year, by the time we have finished the workday and dinner, it is dark outside. And by the way, cooking and doing dishes is twice as hard. We have an inexpensive $10 butane stove from Walmart that we use for most of our meals. We also have a backpacking stove that we use when it is too cold for the butane (any time below freezing). We have a small chest refrigerator as well that we power by solar. Most of our meals we do prepare ourselves as we are simple eaters: oatmeal, yogurt, fruit and coffee every breakfast. Sometimes we splurge and buy muffins. For lunch we usually have wraps and for dinners, it's usually one-pot meals incorporating lots of veggies. Luckily, we like to eat low fat and try to avoid too many carbs. I would say we stay relatively healthy. (We would be healthier if I bought fewer cookies and cupcakes.)
Coffee Shops

—I mentioned earlier that we don't work out of coffee shops. Why?
Coffee Shop bandwidth is not reliably sufficient for video chat.
Baristas are not amused when you set up dual monitors to work on spreadsheets.
Working from a coffee shop for eight hours is uncomfortable; Those chairs are hard.
I work with confidential data. I do not want to worry about shoulder surfers or unprotected Wi-Fi.
Other patrons would not appreciate listening to my meetings.
Coffee shops are full of distractions.
Coffee shop coffee is expensive!
The reason we are living in the van is to be able to explore new places. We enjoy hiking and mountain biking and I love photography. During the week we don't have regular exercise as work usually gets in the way, and without the routine of a gym, we only get whatever steps it requires to get all our chores done. On the weekends we are usually on the local trails making up for all those steps we missed during the week.
Is it all worth it? Yes. But think through the little details first. And don't expect to save a lot of money. You will be rich in experiences!
---
Want to work for one of the top 100 remote companies? Visit our career opportunities page.