OUR PROCESS STARTS WITH ONBOARDING

Our team works hard during onboarding to get caught up with your existing processes. We look at your past books, we build a forecasting model and set of KPIs, and we do an audit of your financial statements/chart of accounts to make sure we're all on the same page and getting started on the right foot.
Note: Due to increased man-hours those first few weeks, our published fees are 2X during each level's respective on-boarding period.


---


HOW THE ENGAGEMENT CONTINUES AFTER ONBOARDING
We are very process driven. The Virtual CFO relationship works best if we are part of your weekly director meeting. We often provide a 15-minute cash update or set aside time to chat about the company's finances. Joining these regular meetings with your directors also gives us a good understanding of your company and culture and helps us stay up-to-date on current events.
After an initial onboarding period, a typical month might include: an Invoicing Meeting in week 1, a Forecasting Meeting in week 2 where we go over the YTD financials and KPIs, and Follow-Up Projects weeks 3 and 4.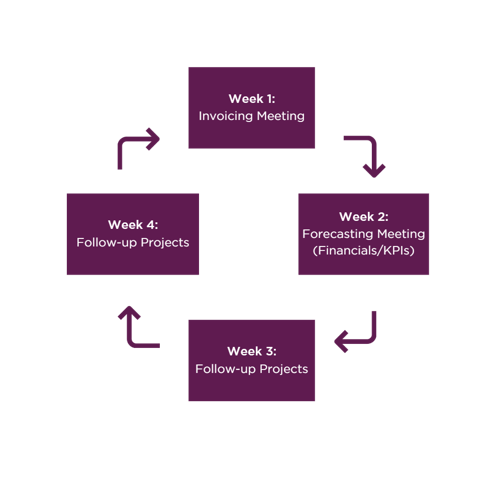 We are always available anytime during the month for questions, calls, and impromptu meetings. We find that this schedule works best for most clients, but it is definitely tailored to fit each client. Also, if we are paying bills as part of the engagement, we will meet weekly for about 15-30 minutes to go over cash flow for the next two to six weeks. This is generally conducted with an individual team member, not the entire director team.
---
Considering hiring a Virtual CFO for your company? Let's chat!
Schedule a free 60-minute consultation with us today.