The Difference between an Accountant and a Virtual CFO
If the partners at your law firm feel like they don't have a handle on cash flow, they're not alone. This is a problem that many business owners face, not just at law firms, but in other industries as well. That's why law firms are turning to CPA firms or hiring CFOs. The problem is that not all CPA firms are built the same.
A traditional accountant looks to the past. They generate financial statements and present metrics that happened in the last period. They paint a historical picture that informs what has happened recently but doesn't help partners to understand where the firm is headed in the future. This type of historical data doesn't help law firms make strategic decisions or plan for business initiatives.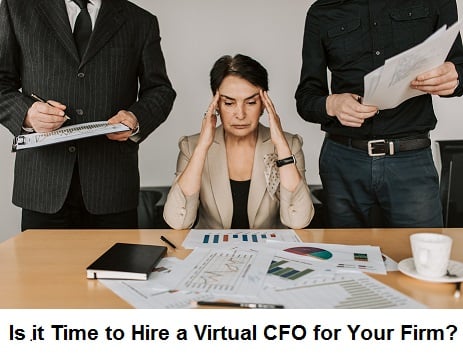 A virtual CFO (VCFO), on the other hand, does all this and more; they not only track historical data but use non-financial drivers to design a dynamic forecast.Dynamic forecasts help partners understand their current and future cash positions so they can make informed business decisions. With this guidance, a VCFO becomes part of their client's team, helping identify not only financial statements and historic data, but also providing strategic initiatives to help owners make business plans.
Overall, the VCFO proactively advises the client on what needs to happen for business success and why, while the accountant tells the client what happened in the past.
How VCFO Services Can Help a Law Firm
KPIs and Cash Flow
A VCFO is able to track key performance indicators (KPIs) in real-time by developing dynamic forecasts built on non-financial drivers. The KPIs act as benchmarks, letting partners of the firm know where they are on the journey toward business goals. The dynamic forecast acts as a window into a firm's current cash position and can be adjusted during scenario planning.
As changes occur within the firm (such as gaining or losing a client, an economic recession, or change in partnership), a forecast can be adjusted according to scenario plans. With this information, partners can determine if business plans need to be extended or changed.
Solve Compliance and Regulatory Issues
Beyond cash flow management and KPIs, VCFOs can help law firms with compliance and regulatory issues. They can ensure that the firm complies with relevant laws and regulations, such as those related to taxes and financial reporting. This can help law firms avoid costly penalties and legal problems.
Strategic Planning
VCFOs can also help law firms with strategic planning. They can work with the firm's partners and other leaders to develop long-term plans for growth and expansion. This can include analyzing market trends, identifying new business opportunities, and developing strategies for expanding into new markets or service areas.
Tax Planning Advice
As the owner of a law firm, you need to plan your taxes carefully, especially since there are so many tax mistakes you need to avoid if you don't want legal or financial problems in the future. But taxes can sometimes seem more complicated than they need to be.
Having a second set of eyes to help you through the process can't hurt. A VCFO stays on top of all changes to tax laws, whether they affect federal, state, local, or international taxes. This means you are in good hands. They can come up with and carry out tax planning strategies. Plus, they can help with audits and cost-savings at your firm.
How to determine whether your law firm needs to outsource CFO services
Knowing when your law firm needs to outsource CFO services can be tricky. Signs that your company might need more guidance in this area include frequent questions about finances that bookkeepers and accountants can't answer or difficulty interpreting the advice of tax preparers.
You may also notice that your cash flow sees great ups and downs, but your bookkeeper or current financial advisor is unable to tell you why. If these situations sound familiar, working with a VCFO may be the best solution. Investing in a VCFO who could support your business operations tends to cost much less than hiring a full-time staff member in this role. Not only will outsourcing CFO services save money, but it also allows lawyers and other employees in the firm to focus their time and energy on client satisfaction and growing the business.
Making the Case for Hiring a VCFO
If you're considering hiring a VCFO, keep in mind the benefits they can offer, such as reducing overhead costs, freeing up time for you and your staff, and providing access to expert-level financial advice. When looking for a VCFO, take the time to find someone who is a good fit for your firm's size, culture, and needs. And finally, when making the case for hiring a VCFO to others in your firm, remember to emphasize the bottom line: a VCFO can help improve your firm's profitability.
Are you ready to hire a Virtual CFO? Summit CPA Group can help. They are experts in law firm accounting and have helped many firms save money while improving their bottom line. Contact Summit today to learn more about how they can help your firm thrive financially.
About The Author: Lyle Solomon has extensive legal experience, in-depth knowledge, and experience in consumer finance and writing. He has been a member of the California State Bar since 2003. He graduated from the University of the Pacific's McGeorge School of Law in Sacramento, California, in 1998 and currently works for the Oak View Law Group in California as a Principal Attorney.