When it comes to digital marketing, CPA firms and accountants can have email campaigns and websites with SEO, yes. But for those who want an extra advantage, it's time to harness the advantages of social media. More specifically, TikTok.
Whether you are influencer level with social media or brand new to video content creation, this article has our tips for starting your professional TikTok account.
Why adopt TikTok into your marketing strategy?
TikTok is a short-form video-sharing platform that has evolved into one of the most downloaded social media apps. "TikToks" are 15-second to 3 three-minute videos that are entertaining, informational, or instructional. Sometimes they are a combination of all three.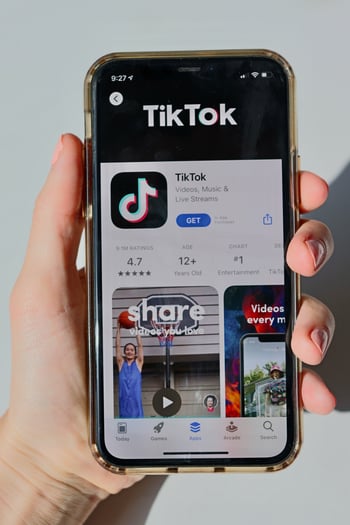 With an average of 52 minutes per day spent on the platform and over 47% of the users ranging above the age of 30, businesses are reaching their next clients through the platform. If you're still not convinced, read our article or podcast episode on why TikTok is a legitimate resource for growing your client base.
How do you start a TikTok account?
Like any marketing strategy, it's important to study the strategy before you begin.
Set Up Your Account
Your TikTok account can be established using a cell phone number or email address. If you plan to have multiple people create content, establishing the account with a marketing email might be wise. Then you will be asked to fill out various demographic questions. These questions are asked for data collection and to curate content for your TikTok feed, which is called the "For You Page" or FYP for short. The FYP is the screen you will see once you have opened the app.
Learning Your Way Around the App
Your FYP will show a stream of videos picked based on your demographic. Don't let this generic FYP be your only exploration of the content on the app. TikTok's biggest feature is its machine learning technology. The app tracks your interactions with content and uses that data to populate your feed with related videos. If your feed isn't interesting yet, explore to teach the app what kinds of content you're looking for.
Explore Current Content and Trends
The platform is very unique in the kinds of content that become popular. Before you can make videos that will work on TikTok, you need to learn what most appeals to users, to you, and to your niche.
In the Discover tab, you can find "trending" hashtags and songs. For a more focused search regarding your industry, use the search bar at the top. Think of this like keywords. Try searching "financial tips & advice", "financetok", "CPA advice", or other related phrases to see what other CPAs or professionals are doing.
WARNING: Make sure you explore the content in hashtags before you use them. TikTok does have content that is "Not Safe for Work." You might think that as a CPA or accountant, #accountantsoftiktok would be a good label for your company. But this full hashtag is not what you think it is. A "TikTok Accountant" is a slang term for someone in a very different field than accounting (trust me!). Our advice is to keep a list of hashtags that work well for your brand and maybe a list of what not to use.
Engage with Content
TikTok tracks the interactions with content. Interaction functions such as commenting, liking, and sharing are along the right side of the screen. TikTok even tracks the amount of time spent on a video. If users scroll away quickly from a video, the app will learn that that video is less interesting and then lower its popularity status. This is why when you start creating content, the first 5-15 seconds of your video need to grab the user's attention.
When learning what kind of content to create, saving the video to your favorites allows you to reference it later.
How to Generate Content Ideas?
Now that you are an expert on all the TikTok trends in your niche, it's time for you to record content of your own. If you want advice on how to record TikToks, you can search #howtotiktok tutorials within the app. You will find many popular TikTokers giving advice on how best to curate content for the app.
Summarize Your Services by Answering Questions
Just like you would when doing keyword research for blogs, google questions like "why should I hire a CPA?" or "things to ask when hiring a CPA". You might be someone's introduction to your services, so explain the basics. Then your content can evolve into answering more industry-specific questions.
Make a list of FAQs
Let your teams know that you're starting an FAQ list for content creation. Maybe start a slack channel or weekly reminder to collect anything that customers ask that week. Even if the question doesn't seem revolutionary, share your answer to it. Your TikTok content is establishing you as an industry expert. The more information you can give to people upfront, the more likely they are to trust you when it comes time to hire.
Use Your Existing Content
Does your firm have a blog? YouTube channel? Revisit the content that you've already created. Breakdown that content into short TikTok-able chunks and create a series.
Showcase Your Tools
A popular trend is teaching people how to use various tools. For examples, explore the hashtags "Excel Tips and Tricks" or "MS Word Tutorials." What kinds of tools does your team use every day specific to your industry?
Add Fun Trending Videos
TikTok's original popularity came from people "stitching" dance videos. Don't stray away from having fun and jumping on some of the popular trends. Not every video needs to be all promotion the whole time. These trends could be dances or lip syncing or using viral songs. Showing your silly or easygoing side can make you more relatable.
Repurpose Your TikToks
You've learned a new platform and created a bunch of content. Congrats! Your videos can now be repurposed and shared on other social media platforms. Reshare your TikToks as Instagram Reels or YouTube Shorts. Add a TikTok to a blog post and then share it on LinkedIn. Video content receives more attention and establishes more personality.
Manage Your Time
When you're consuming content in the app, you will start to get a feel for what type of content you like (and what you don't). This will help you create better content. But be aware of the time you spend doing "research". TikTok is a social media platform that is designed to absorb your attention. You might start with the intention to "study" and end up scrolling for hours. To ensure you're not just wasting your time, set timers and weekly accomplishment goals. This can help you keep yourself accountable on the productivity of TikTok as a marketing tool, not just entertainment.
For more tips and advice on creating a TikTok account to increase your sales leads, check out our other blog and podcast episodes.
At Summit CPA our marketing efforts have been successful because we found our niche, determined our market verticals, and tried to grow within those select spaces. The idea is to be as efficient as you can with your marketing dollars by identifying areas of the market where your firm has ample room to grow. For more information, contact our office at 866-497-9761 to schedule a consultation today!