Like most Virtual CFOs (VCFOs) at Summit, my career pulls from a blend of experience in different industries, like professional services, marketing, education, and publishing. I started my career in public accounting where I provided contract financial accounting services as a controller. After my first years in public accounting, I've been a VP, a CFO, and an independent consultant. What has surprised me most is that I have found myself in the latter days of my career working, once again, for a public accounting firm and, once again, providing contract financial accounting services.
When a recruiter reached out to me about the opportunity at Summit, I was excited about the opportunity to return to a financial consulting role to be back in front of clients.
Coming into Summit with this range of experiences gave me confidence and also allowed me to step into this senior financial leadership role with an open mind. I knew there would be new expectations and that I would spend time getting up to speed as I learned the Summit way.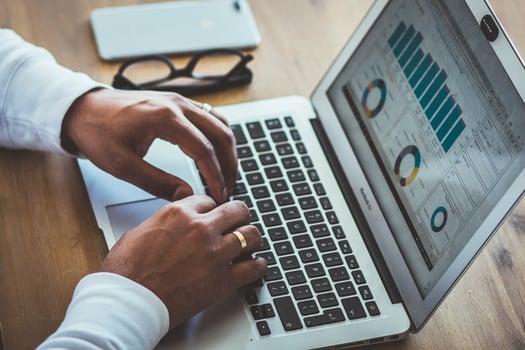 There's no way around the work of onboarding, so I just approached it with curiosity, knowing that Jamie Nau, Summit's Director of VCFO, Adam Hale, Co-founder of Summit and Partner at Anders CPAs + Advisors, and my other Summit colleagues had my back. Whether you're new to the VCFO landscape or thinking about joining a firm of VCFOs, here's how to survive your first 100 days in the position.
New expectations
As with any new job, there's new expectations, right? In previous jobs, I was used to dealing with several client relationships, all of which were pretty surface level. But Summit really values relationships, so each VCFO has no more than 15 clients. And each relationship is very intimate; we really get to know our clients and their businesses at a granular level. What's more, every VCFO has a mentor or business coach. This relationship is what gives depth to the work we do with our clients.
The bulk of Summit's clients are digital agencies. Our job is to understand the key drivers of their business; we do this with financial reporting, data, and benchmarking. We apply analytics to help a client improve their business.
This kind of thinking is the difference between approaching situations as a business advisor as opposed to a financial person. As a VCFO, we have an advisory role; we're not just providing taxes at the end of the year. First and foremost, we're business advisors, which can be a new way of thinking entirely for someone with a background in accounting.
In this role, clients look for us to be very proactive. So they're not looking for a dissertation. They're not looking for a history lesson on what they did last month. They already lived it. These business owners don't need that. What they need to know is "what does it mean going forward?"
The VCFO position is different from traditional accounting roles. Usually, you're the "question and answer" guy; somebody asks you a question, you give them an answer. Now, you're expected to think of the question and then provide an answer.
Onboarding
When I first started, I was really eager to jump the learning curve and meet with clients. But the problem was, I didn't know how the sausage was made. I had to learn the Summit way first.
There's four parts to Summit's onboarding process:
Training videos


My first 45 days were spent immersing myself in training videos, understanding the philosophy, how we approach clients, how we look at things, and then correlating that to the tools that Summit has developed over the years that they've been in business.
Shadowing


I sat in on some calls with other VCFOs and listened to how they interacted with their clients. This helped me learn Summit's approach to clients, questions that VCFOs were asking, and the cadence of client meetings.
Conversations


I met with Adam Hale and Jamie Nau several times during onboarding to ask questions and pick their brain about anything I needed help to understand.
Onboarding new clients


Being involved in the onboarding process with a new client is the best way to learn–you have to get your hands dirty!
Clients
Then, the clients came! As many things as I learned in the four-step onboarding process, it doesn't really matter until you do it. Once you're the one in charge to deliver information to the client and run the meeting, that's when you put the brain power and everything behind it.
I probably had the biggest struggle with existing clients that were from the CFO who left. I was the new kid on the block. I didn't know anything about the client or their history with Summit.
I really had to dig in. I didn't know how the forecast was developed. I wasn't knee-deep in the non-financial metrics that helped drive the business, and that's a little harder to uncover once it's built. And, of course, you don't want the client to know you're struggling because you're supposed to be the expert. Luckily, I knew I had Adam and Jamie whom I could go to after the meeting and ask questions.
As Adam says, "Be confident upfront, and then we'll figure it out on the backend; you have plenty of support."
And I really did have support with the existing team; I was able to tap the senior accountant, the data analyst, and the tax team, for information on the existing clients. But one benefit I did have with existing clients was the ability to bring a fresh set of questions coming from my experience. Between the team and a new perspective, I was able to acclimate to the existing clients and start building relationships.
Being part of the building process for those newly onboarded clients really helped me understand the full process because I was involved in every step. I learned how our payroll grid is constructed and how it gets translated into our forecasting product. I was able to, from day one, see how those tools worked and how we built those tools out for a new client. I wasn't trying to figure out the past, just the present. That's really where it all came together and started to gel for me. I was able to be curious and start to understand the client's business. That's the fun part!
Confidence
When you're dealing with financials and advising business owners about the future success of their business, you have to be confident that you're giving them sound advice. You need to be a self-starter. And if you don't have the answers, have confidence on the front end and get help on the back end.
It's about diving in and embracing everything. No matter what your background is, or your experience, just know that whenever you start a relationship like this, it's going to be a little bit different and that's okay. I've got 10 clients, and I think the most important thing is to talk to each client every week – which is definitely not how things worked in public accounting. At Summit, I talk to every client at least once a week and sometimes more than that. With that kind of constant dialogue, the relationship deepens pretty quickly, which in turn builds up confidence.
Curiosity
Curiosity is one of Summit's core values. I am curious by nature, so I'm always trying to put myself in the shoes of the client. Sometimes people think that being curious is simply asking questions. But really, the key is listening to clients' questions and reacting to their answers; it's not simply printing a list of questions from the web and sitting through a meeting reading them off the page.
Their answers will help me figure out what to do next: give them a tip, offer a solution, or maybe ask three or four more questions before I can find the right piece of advice. In this advisory role, I'm the question person now–not the answer person. I have to ask questions with intent and really listen. Sometimes, I will go completely in a different direction than what I originally intended, and that could be a sign we need to dig deeper or it could be a sign we need to get back in alignment. It's about being proactive.
Adam likes to follow the Five Whys philosophy, where you ask "why?" five times to get to the root cause of something. Personally, I know if I have a question about a client and I ask Adam's advice, I better have fully vetted the situation because it can be nerve-wracking to hear him ask "why?" five times in a row! So, being curious really is about digging deeper and deeper and making sure you're asking intentional questions that get results.
Technology and a remote environment
Summit did a great job of getting me geared up with tools and resources, but learning how to work in a virtual environment was probably the steepest climb for me. I came from a traditional office environment, so learning to navigate the virtual world took some time.
Without a tech team standing by physically in the next office, I had to be a little bit more entrepreneurial and figure things out. But soon enough, I learned that I can lean into the IT team. If I need something, they can make it happen and build it out for me.
I think it's easy for most VCFOs to get overwhelmed with all the new technology and learn their new environment in their first 100 days. However, I learned at Summit that all we need to do is be a relationship manager: exude confidence, dive deep into the client relationship, and know what resources are backing you up.