The Modern CPA Success Show: Episode 59

Andrew Tucker from Practice Executive, one our Virtual CFO Playbook Course participants started his Virtual CFO practice from scratch and grew his clientele using the Summit CPA framework.
In this episode, we sit down with our host and Director for Accounting/Virtual CFO, Jamie Nau and our CEO and Co-founder, Jody Grunden to discuss how he started, how we utilized his learnings and what challenges he faced and what helped him achieve his goals in a very short span of time.
Episode quote:
"Back in November I was able to unveil practice executive, which is really something I created almost entirely from scratch based on the Summit Model and what I've been able to experience from you guys over the last few months."
- Andrew Tucker
The finer details of this episode:
Practice Executive LLC and how Andrew Tucker started his practice

How he applied what he learned from the Virtual CFO Playbook Course to grow his clients from scratch

Becoming a thought-leader in the dental industry
Episode resources:
Enjoy this episode? Subscribe to The Modern CPA Success Show to get more tips and strategies for achieving CPA firm success. We're here to be a resource in this ever-changing industry.
Available via iTunes, Spotify, Stitcher, and more!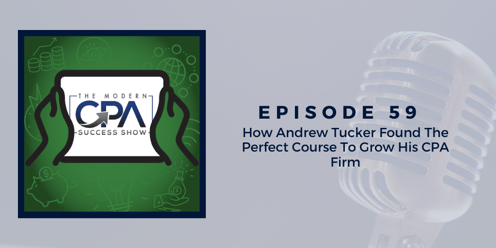 Share this podcast episode on Twitter:
The Modern CPA Success Show 🎙️ by @SummitCPAGroup:
Episode 59 - How Andrew Tucker Found The Perfect Course To Grow His CPA Firm 👉 https://ctt.ec/z94Uo+
---
Want to listen to more Summit CPA podcasts?