Content is a subject that many firm owners run from. Often, they are worried they don't have the capacity within their team, and firm owners have no idea how to create content that resonates with their target audience in the first place. Our approach to content is very simple and adopting some of our strategies will help you create a strategy that works for you and your team.
So, whether you are looking to upgrade your current content strategy or looking to begin one in 2023, you've come to the right place. This blog post will help you create a strategy that aligns with your sales goals and is simple in nature.
The Inbound Approach to Marketing
Before we jump into our methodology, it's a good idea to understand how our approach to content differs from some of the other approaches used by CPA firms. Many firms still use an outbound methodology in their marketing strategies. Outbound methodology includes cold calling, cold emailing, and advertising. These methods are actually more on the sales spectrum than marketing—and they are becoming increasingly fatigued.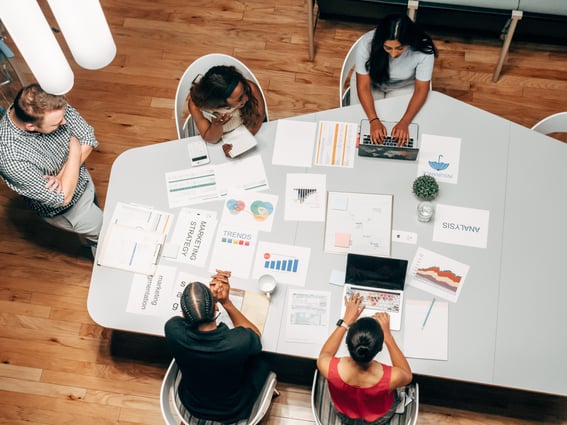 Have you ever noticed how when you are scrolling through social media apps, your brain automatically filters out ads? That's why outbound methodology is becoming increasingly expensive and difficult. You have to create a truly loud ad to break through the noise of all the other ads out there while increasing your budget to reach as many people as possible. Even if you break into your target audience's mind, messaging used in outbound ads are often salesy and make an audience alienated. This is not to say that outbound marketing never works, but it must be carefully crafted to truly meet the needs and wants of a target audience—without being intrusive.
This is why Summit CPA Group has decided to utilize inbound marketing. It's ingrained in every marketing strategy we use and so far, we have seen much better results. Inbound marketing focuses on being an expert in our space and using our expertise to help and educate our target audience. We provide business owners with the information they need to make decisions and when they are ready to seek out accounting services, they come to us. Why? Because we have been a resource for them and answered their questions for free and without expectation.
Inbound marketing allows your target audience to find you rather than having to be pushy and salesy. Our target audience comes to know, like and trust us first.
Good content
The paramount of any effective content strategy is, well, great content. What is the secret to great content? Offering tangible value on a consistent basis. We will talk more about creating a consistent content schedule in the next section, but let's touch on creating content with tangible value.
Providing value means offering your audience a "secret weapon" of sorts—a strategic advantage over their competition. To do this, make sure you provide value and knowledge that your audience likely has not come across yet. It could be a concept from a new perspective or an entirely new idea.
There are a couple signs that will let you know that your content is providing valuable insights to your audience. You may notice that your content is being shared to other platforms. Your connections may share your content to networking groups, on their own social media pages, or to colleagues. Analytics may show some of this activity or you might also hear about these events in person.
You may also notice an increase in activity on specific website pages or social media channels. Tracking data can help you analyze where visitors are coming from and what content is being consumed. Many free platforms provide analytics for free such as Google Analytics and most social media platforms.
You may find that good content is shared out to other platforms—friends, networking groups, etc.
If you feel lost as to what content your target audience needs, focus on questions you get from your clients regularly. These are the trouble areas your clients need the most help on, and content that answers these questions will be well received. Your content will be trending in no time!
Consistency
As mentioned before great content is the first step in a successful content plan that supports sales, but consistency is equally important. Consistent content helps you build authority with your audience. When your target audience can always turn to your firm for answers, they will trust you. Consistent content also helps your firm generate leads and traffic.
To stay consistent with your content production, you will want to create a schedule and find someone or something to keep you accountable. What do we mean by that? First, you need to begin by creating a schedule that you can stick to. If you only have the capacity for one blog post or video per week, then that is just fine! Focus on creating that one piece of quality content and spreading that content on the platforms that can provide you the most leverage. Sharing a link to a blog post on social media can be one way to leverage your content. Posting a webinar recording on YouTube and sharing small soundbites on social media is another way to gain leverage. Regardless of the type of content or platforms used, you should always keep in mind where your target audience consumes content.
Is your audience on LinkedIn or Instagram? Or both? Do they prefer consuming podcasts, webinars, videos, or blog posts? Knowing this information will improve the reach of your content and will be more likely to generate leads and traffic.
After you've done this analysis, you can find a method to keep you accountable to your content schedule. You might consider a project management software that can notify you of deadlines and keep you on task. If you're the type of person that tunes out notifications, finding a mentor or advisor to keep you accountable can also help. Eventually, your schedule will become a habit, and you won't need these reminders to produce content!
We have a few more tips to help you create consistent content. In your content schedule, come up with specific times each week (or month depending on your preferred cadence) when you will come up with ideas, record, edit, and post your content. As you create content, this process will become more efficient, and you will become faster at producing content. Finally, make a commitment to your content schedule. Get into the habit of checking your schedule regularly so you can ensure you hit your content goals.
Start Small
When creating your content calendar, it's important to start small. It's never a good idea to begin marketing on all channels and choose many content styles all at once. If you do so, you may quickly become overwhelmed and abandon your content strategy altogether. Below, we will help you determine which channel you should begin with and what recording style is right for you.
Pick Your Marketing Channel
Picking the marketing channel you begin with isn't an exact science—well, maybe it's a bit into the psychology realm. Begin by considering the marketing channels your target audience is most likely to use. Is it Instagram? Industry publications? Webinars?
Once you've determined this, consider which channel you are currently best equipped to jump into. Your team will also want to consider which platform provides rapid awareness and high reach. These are the platforms that are not considered obnoxiously saturated and can reach a large number of people in your target audience organically. Also, consider platforms that have networking opportunities.
Pick Your Content Style
Once you've chosen your marketing channel, determine the right content style to begin with. There are many types of content styles, but here are a few of our favorites:
Talking head videos (looking straight at the camera)

Webinars (long-form video)

Podcasts

Live Q&A

Infographics

Blog Posts

Articles

Booklets
We've used these types of content across many platforms, but it has taken us time to work up to using all of these. Ask yourself what style you have a preference for and which type of content your audience would most enjoy.
Recycle Content
Once you've mastered a specific content style and marketing channel, you can recycle your content onto other channels without having to generate entirely new content. This not only reduces overwhelm, but recycling content also streamlines your production process.
Recycling content just means reusing content for other purposes. You might take soundbites from a webinar you produced and post it on TikTok or Instagram reels. Or maybe take a blog post and turn images and paragraphs into LinkedIn posts. There are numerous ways to recycle content, you just have to use a bit of creativity and ask yourself what your target audience is looking for in content.
One way to make this process more efficient is to keep a record of all the content you've created in one document. You might use an Excel spreadsheet, online database, project management software, etc. Whatever works well for your team. Just make sure you include these fields in your documentation: link to the content, keywords, date of production, and topic. This way, when you are looking for content related to a specific use, you can easily search your new content library.
Build Your Team
Producing content does take time. In the beginning, it will likely be yourself and maybe one other team member producing content. However, as your content strategy grows in size and effectiveness, you might find that it's time to add team members.
The key to hiring team members for content production strategies is focusing on finding one person or a few people to help with planning, creation, editing, scheduling, and promotion. Sometimes you can hire one person skilled in all of these areas. Other times, you might find someone skilled in planning, creation, and editing, but not as skilled in scheduling and promotion. In this case, you may wish to train them in these areas or find an additional person to complete these tasks. If you aren't ready to hire a full-time employee, you could look for a contractor skilled in these areas.
We hope this article has helped you create a content strategy for 2023. One last reminder: start small. Do not take on too much at one time, or you might give up your content strategy quickly. Take small, calculated steps and soon you will have a content strategy that brings in leads in no time!