A Conversation with Consultant and Author Traci Schubert Barrett about:
"How to Thrive in Your Second Act"
I like to lose clients – in a good way, of course. Last year we had about ten, and this year we're expecting another ten clients who are selling their business. It's something I get excited about, professionally, because it means we've done our job for our clients by helping them grow to the point where selling makes sense. But it's also something that resonates with me, personally, because I just went through it myself last year when I sold Summit CPA Group to Anders CPAs + Advisors.
As entrepreneurs, we work so hard to get to that accomplishment. So much of our focus goes to painting the big picture and, at the same time, living that day-to-day.
I know there are a lot of people out there, like me, who hit a high point in the first half of their life and are now wondering: What do we have to look forward to? Is there something out there for me as exciting as that? Or is it downhill from here?
What happens when we reach our goal, a goal we may have pursued for decades? And, what happens if we don't know how to answer that question?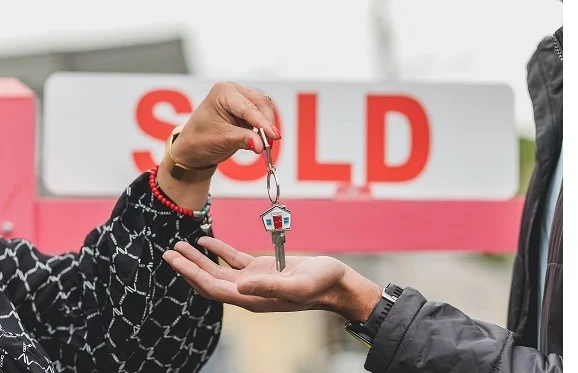 That's the question Traci Schubert Barrett, co-founder of Navigate the Journey, wanted to answer. After a dream career as one of the founding members of HGTV who spent almost 20 years of her life building that media empire, she became a Leadership and Strategic consultant who helps business leaders optimize their business, scale their companies, have healthy teams and be better leaders. Working one-on-one with people, coaching leaders to be the best versions of themselves, she decided to write a book, What if There's More: Finding Significance Beyond Success, that would allow her to share her process with a larger audience.
I've seen Traci's work first-hand. On a professional level, she's done consulting for Summit, as well as on a personal level for my wife and me. So now that she's written a book that can help more people get started on answering these questions, I wanted to sit down and talk with her to get her best advice for anyone finding themselves at a mid-career crossroads.
Strategic planning - for yourself
For people who achieve success in the first part of their life, when you look back on the experience it can feel a lot like going through the motions–other people's motions. Traci described a feeling of rushing to predetermined mile markers, which kept her from really understanding who she was as a person beyond her identity at HGTV. She wanted to figure out how to take her internal sense of purpose and unique design to make an impact.
What does that process look like? It's not all that different from what leaders are already used to doing for their company: We all do strategic plans, but we rarely consider using the same tools on ourselves.
Based on her two-day intensive coaching program, the "strategic life map" helps business owners understand their unique talents and core values, in order to answer questions like: "Okay, I built something great, now what do I do? What direction do I take all this? How do I reimagine my future?"
Part of the process involves looking at what got you where you are today – successes and challenges. What are the patterns you've picked up along the way that you need to resolve? "Who you are today is very different from who you were at twenty-two," she says.
The end result of this strategic process is that you understand what it means to "be the best version of yourself," a statement so many coaching programs take for granted. Once you know what that really looks like, you build the action plan to get there.
Look for broader, deeper meaning
Most business owners get their inspiration from their passion for whatever it is they're building. In the second act of life, we need to keep following that passion, but–Traci says–if we let go of trying to be successful for the sake of money, title, power, etc., it's going to be a way easier journey.
When we let go of those externally motivated goals, we can shift to a pursuit of significance. That's where it's possible to find a sweet spot, where we can lean into how we can positively impact people in a unique way. There's no more competition with others. Traci describes it as being "set free."
Rather than getting caught in the trap of "it's all downhill from here; maybe I'll go hit the golf course," when you make your own definition of success, you start to realize you've got something to give society that doesn't necessarily fit the mold. And it shouldn't fit the mold, Traci argues. It all comes down to understanding our unique design, our unique wisdom, and then figuring out how to use that to make a difference.
"To me," Traci said, "that's so inspiring. It's more inspiring than hitting the golf course. It makes you want to live longer and be healthier. Be proud of all the wonderful things you built. Celebrate, say 'damn, I did a great job.' But that's not the end. There's more to come and that's super exciting."
Constantly revise
Strategic planning is a great tool, but you can't just respond to the prompts or do a two-day workshop and think everything is going to be perfect from then on. To really get the most of this approach, you have to see it like a continuous planning session.
When you make a map of something as unpredictable as life, you have to keep altering the routes. But the basics stay the same: you set the values, you set the core, you set the vision – and you set your destination, your legacy. Everything spills out of that and, as you refresh it – at least annually – you get this living, breathing thing that becomes part of who you are. "And that," Traci says, "is the beautiful magic of it."
Check out "What If There's More?"
I've worked with Traci, alongside my wife, April, to do the two-day intensive, and when I read the book, it brought the experience right back to me, as if she were in the room. She told me she worked on this book for two whole years, and you can tell: she brings so much of her in-person energy to the pages; it's the next best thing to working with her one-on-one, and I highly recommend it for anyone at a crossroads. She's also developed reflection questions and free downloads to help structure your process, whether you want to try it as a part of a book club, with your partner, or on your own.
If you'd like even more guidance on finding out what's next for you, check out Traci Barrett's Strategic Life Map Academy course launching April 26th: https://www.tracischubertbarrett.com/academy