Corporate. Leadership. Retreat. Are you cringing? Do the words "trust fall" and "ropes course" come to mind? Are you having nightmares of a very cold (or very hot because someone is always complaining about the temperature) windowless hotel ballroom? Are you envisioning yourself staring at four walls for eight hours every day while being talked at by a lifeless presenter clicking through Powerpoint decks? Wake up. It's 2017. Corporate Retreats should incorporate compelling facilitators, interactive peer-to-peer learning, fun activities and relaxing downtime -- all at a refreshingly unique venue in an unforgettable destination. It may even involve a few gorillas, if you're lucky.
Prior to arriving at the beautiful Inn at Rancho Santa Fe in San Diego, the 15 members of the leadership team at Summit CPA Group, a distributed company, had never met in person. They flew from all over the country to be together for a few days to discover their motivations and strengths, build their leadership skills, strategize on cultivating business and ultimately, realize their full potential. Oh, and to bond and have some fun. And speaking of bonding, the Retreat was not open to spouses or significant others. Only employees attended. The beautiful grounds of the luxury property and the high 60 degree temps were perfect for an early February retreat. Lots of green space allowed for the team to enjoy sunny outdoor meals, evening receptions under the stars, and a breath of fresh air during breaks.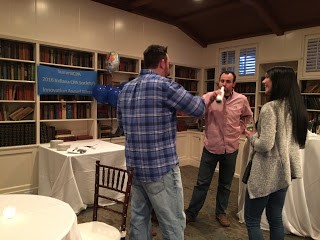 The Retreat kicked off with a Thursday evening reception where the team mingled over adult beverages and tasty appetizers. Off to the side of the room, a banner and table with a cake could be seen. The surprise of the evening was Summit CPA Group winning an Innovation Award. The timing of the award announcement on the eve of the Retreat was perfect. And due to 11th hour planning, the team celebrated with delicious custom cake from a local bakery and an inspiring welcome from their fearless leaders, Jody and Adam.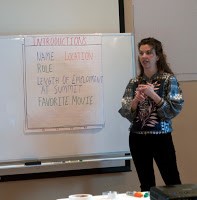 Summit CPA Group partnered with Navigate the Journey to facilitate the corporate leadership training process. Through the process they learned how each team member thinks, operates, and how they view success. It was insightful and important to see how every one learns and processes differently. This shared understanding helped pave a new way to interact with each other to achieve goals. The team, led by facilitator Traci, began brainstorming their mission statement: a huge undertaking that will guide the actions of Summit CPA Group, and spell out its overall reason for existing.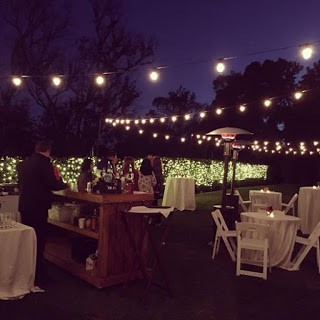 Each evening, after using our brains all day to think through some difficult exercises, a beautiful cocktail reception under the stars and market lights of the Azalea Lawn was most welcome. Later, the team divided into three groups and Ubered to the area's best restaurants. These small group dinners were a great way for the team to interact and bond in a relaxed, informal setting—over delicious food and creative drinks. From what I witnessed and otherwise heard, the Uber rides alone were quite entertaining. The final evening, the group wined and dined together in a semi-private room at the Italian themed Cucina Enoteca. After spending a few evenings in smaller groups, getting to know everyone a bit better, it was nice to socially reconnect as a bigger group and enjoy conversations and laughs.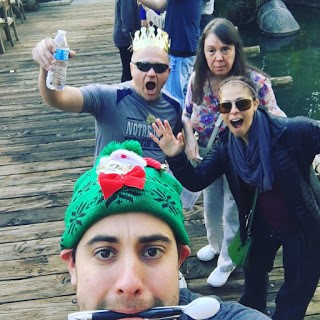 Saturday morning started early. Grab and Go breakfast sandwiches were ready at 7am on the lawn, and so was the team. Complete with their "silly hats", "something wild", and "three amazing facts about themselves" they boarded a school bus with no idea where they were going or what they'd be doing. So fun! Mystery Trip is a unique turnkey event that flattens org charts and brings teams together in a way that other events never could. Everyone is in the adventure together, traveling from mysterious stop to mysterious stop. Summit CPA Group's first stop was the San Diego Safari Park, where the team was divided into small groups and sent out on a crazy and challenging scavenger hunt throughout the park. With only 45 minutes, the teams were challenged to work smart and creatively.
After the scavenger hunt, the team hopped into a vintage safari wagon and was transported way above the Safari Park to an area seldom seen by most visitors. It was there they prepared for their next activity—Zipling. This ultimate recreational experience was a first for over 90% of the group. Super cool that they will always remember Summit CPA Group Retreat as their first time ziplining. The team soared over 130 feet off the ground, high above the hippos, giraffes, and other wild animals.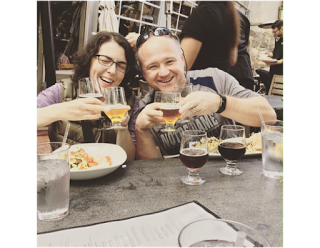 The final stop on the Mystery Trip was lunch. But this wasn't any old ham sandwich and chips lunch. The team enjoyed gourmet duck tacos, Thai lamb noodles, crispy Brussel sprouts, and South American ceviche at the Stone Brewing open-air beer garden. With over 36 craft and specialty beers on tap, everyone found something to their liking. Some couldn't make up their mind, so tried several. The Mystery Trip was not only a huge hit but a true catalyst for bringing a distributed team together. The team is still talking about it today over Slack. Lots of memories and bonds were made during that six hour activity that will positively impact the way the team members work together and the way they view the Summit CPA Group brand.
Superbowl Sunday arrived, and the team departed for the airport with a renewed sense of purpose, unity, clarity, and focused action for the future. They even had the rough draft of their mission statement. Woohoo! The next Summit CPA Group Retreat is on the books for mid-November in Sonoma. The entire team of over 40 employees will descend upon the vineyards of Northern California for what will no doubt be an engaging and exciting learning experience. Meanwhile, I'm on a mission to top the experience I just produced in San Diego. Wish me luck…