Are you thinking about changing jobs? The job market is improving and more people are starting to check out the job market. Just in case you aren't aware, you may be eligible for a tax break for your job hunting? To be eligible these deductions you must be seeking a job in your current field, even if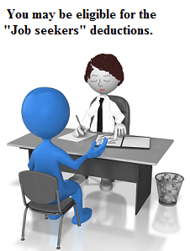 you don't get the job. The deductions include;
* Travel expenses to job interviews that include: gas, care rental, etc.
* Resume expenses such as: resume prep, copies, stamps, etc.
* Employment agency fees.
To take advantage of these tax deductions you will need to itemize your tax return. Also, your total miscellaneous deductions must exceed 2% of your adjusted gross income (AGI).
At Summit CPA we offer multiple resources to assist you with all of your tax and financial planning needs. Contact our office at 866-497-9761 to schedule an appointment with our advisors.