The Virtual CPA Success Show: Episode 41
If there's one thing everybody looks forward to in a remote company, it's definitely the company retreat. An event where everyone is able to enjoy, hang out and talk about work, life, and random things in-person and not through virtual meeting rooms. These events are important for our company's culture and we know how such can ultimately contribute to a high-performing virtual team.
In this episode, we sit down with Jody Grunden, Zach Montroy, and Lillian Hocevar our team members who made such an unforgettable company retreat possible.
---
Episode quote:
"I really think what Summit has created, and Jody and Adam have created together is something unique; and also is something that should be looked at by other companies and replicated with how they treat their employees and creating that connection in a very remote working environment"
- Lillian Hocevar
The finer details of this episode:
Postmortem discussion of the Director's Retreat

When to include family members in company retreats

Selecting the perfect location for retreats that include family members

Ultimate goal of company retreats

What are the 6 Working Geniuses? How did Summit use this information to help teams
Episode resources:
Enjoy this episode? Subscribe to The Virtual CPA Success Show for Creative Agencies to get more tips and strategies for achieving virtual CPA firm success. We're here to be a resource in this ever-changing industry.
Available via iTunes, Spotify, Stitcher, and more!
You can view the transcript for this episode here.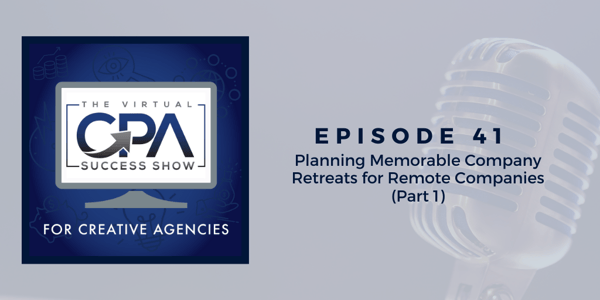 Share this podcast episode on Twitter:
The Virtual CPA Success Show for Creative Agencies 🎙️ by @SummitCPAGroup:
Episode 41 - Part 1: Planning Memorable Company Retreats 👉 https://ctt.ec/GaaDT+
---
Want to listen to more Summit CPA podcasts?