To improve your cash flow keep a constant watch on your accounts receivable.
Are you finding that you have a lot of unpaid invoices? Do you have customers invoices that are over 30 days past due? Have you billed all your time and expenses for a completed customer project?
If your accounting system is still done manually, it may be hard to easily find past due invoices. There may even be some that you won't find at all depending on your accounting system.
QuickBooks has more than one solution to this issue. Every time you log into QuickBooks you see the first solution. In the upper left corner of the dashboard, you will find a graphic that tells you how many overdue and unpaid invoices. Just click on the colored bar labeled OVERDUE, and you'll see a list of invoices with the unpaid ones right at the top.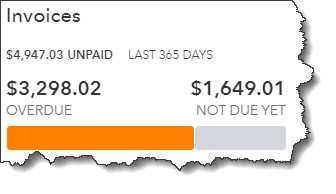 In a glance you can tell how much of your money is tied up in unpaid invoices.
Although this is important information to have at the beginning of your workday, it's not the whole story. For that, you will need to access some of QuickBooks' 5 reports. Just click Reports in the left vertical pane and scroll down to "Who owes you".
The reports are listed in 2 columns, each with a star outline next to it. By clicking on the star, the report will be added to the Favorites list at the top of the page. When you click on the 3 vertical dots, you will be able to Customize the report. By hovering over the title, you can see a small circled question mark. When you click on this question mark you will get a brief description of the report.
In this list there are several reports that will provide insight as to where your outstanding revenue is located. It's recommended that you run 5 reports at least once a week or more frequently if your business sells large quantities of a product and/or service. The suggested reports are:
Accounts receivable aging detail
This report will provide a list of overdue invoices, as well as aging information. You will find several columns in the report, however, pay special attention to the one that says "OPEN BALANCE".
Tip: If you have a lot of customers or a high volume of unpaid invoices, instead, consider running the Accounts receivable aging summary.
Changing the Content
Prior to running the report, you should explore the customization tools provided. Although they will not be the same for every report, you can start to get an idea of what you're able to do. Just hover over the title of the report and click Customize. A panel such as the one pictured below will slide out of the right side of the screen.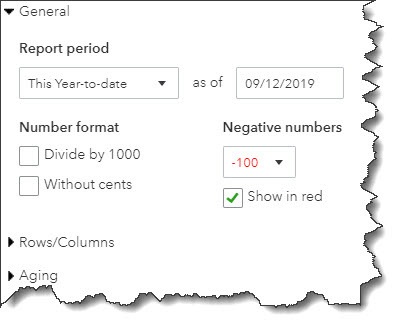 QuickBooks provides deep customization tools for reports.
In the image above, you can see some of your customization options. You can also work with filters and headers/footers. If you're satisfied with the changes you've made, click Run report.
If you decide to run a report using its default settings, just click on the report title in the list to display it. From there, you'll have access to limited customization.
Here are 4 other reports you should be generating regularly are:
Customer Balance Summary: This will show you how much each customer owes your business.


Open Invoices: These are lists of invoices for which there has been no payment.


Unbilled Charges: This is just what it sounds like, it tells you who has not been invoiced for billable charges yet.


Unbilled Time: This lists all billable time not yet invoiced.
QuickBooks offers many other reports, the standard financial reports that need to be generated monthly or quarterly, like Balance Sheet, Profit and Loss, and Statement of Cash Flows. Should you apply for a loan or need to supply in-depth financials for any other reason, you'll absolutely need these reports. If you need assistance we can help you analyze them to get a comprehensive, detailed picture of your business' fiscal health.
At Summit CPA we offer QuickBooks consultation. If you would like further information on how we can assist you with your bookkeeping needs, contact our office at 866-497-9761 to schedule an appointment with our Virtual CFO.