Are you thinking about retirement? Maybe you're just trying to figure out your how much your funds will add up to by the time you are ready for retirement.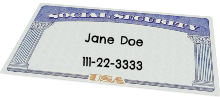 Did you know that your Social Security benefits status is available each year 3 months before your birthday? You should automatically receive your Social Security statement each year. If you don't receive a statement you can view it online by visiting the Social Security.gov website.
Your Social Security statement will show you the status of your benefits. It shows your yearly earnings and anestimate of your benefits at your full retirement age. This statement will also show the disability and survivor benefits that you and your family may be able to receive now and in the future.
It's a good idea to review your statement each year to ensure that you're being credited for all of your earned wages. You should contact the Social Security office if your earnings from your state or local government employer don't show up or are not correct on your statement. There are some earnings that may not show up, because they may not have been covered either by a Section 218 or by federal law.
Note: If you delay applying for benefits until you're age 70, you can increase your Social Security benefits by 5-8%.
Reminder: If you have reached age 70½ during 2017, you will need to take the required minimum distributions from your retirement accounts.
At Summit CPA we offer multiple resources to assist you with all of your financial needs. For further assistance contact our office at (866) 497-9761 to schedule an appointment with our advisors.