When you think about estate planning generally you think of assets that include property or money. However, with all the technology today, the majority of us also have digital assets. Just as you would designate someone to carry out your last wishes for your belongings, you need to also designate someone to be in charge of your digital assets. When you document the list of your personal assets, add to that list your digital assets, such as,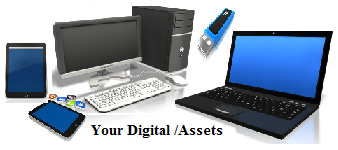 * Social media accounts
* Online Banks account information and other financial accounts.
* Email accounts
* Online storage accounts
* Bills that are directly withdrawn from your bank accounts, Otherwise, these withdrawals will continue until your executor closes the accounts.
* Direct deposits made to your account as well as e-statements, invoices, and any other personal and financial information that will continue until your executor closes the accounts.
* Information in your phone, computer, and tablet.
Make a list of all your digital accounts and include usernames, passwords, web addresses, as well as the location of external hard drives and flash drives. Add wording to your will for an authorization for release of this information to your designated executor. It's very important that this list is kept up-to-date and in a safe place along with all of a list of all your personal assets to be passed to your heirs by the executor of your will.
Estate planning is more than personal property and financial assets, it also inclues your digital assets too. For all of your financial and estate planning needs contact our office at (855) 977-7623 to schedule an appointment with our advisors. Utilizing up-to-date technology we have the capability to assist you virtually anywhere in the USA.