*Onboarding: our team works hard to get caught up with your existing processes. We're looking at your past books, we're building a forecasting model and set of KPIs, and we're doing an audit of your financial statements / chart of accounts to make sure we're all on the same page and getting started on the right foot. Due to increased man hours those first few weeks, our published fees are 2X during each level's respective onboarding period.
**DIY Service: Due to numerous requests, we've rolled out a new program to service smaller agencies under $1M in annual revenue. We call this plan DIY (Do it Yourself). During the first 6 weeks, we take a deep dive into your financial statements and restructure them to conform with industry standards. We create a 12 month forecast and a 6 week forecast to manage yourself and handle short and long term cash flow. We'll also indentify the four metrics you'll need to focus on in order to successfully grow your business.
After onboarding, you'll use our templates and take it from there. On a quarterly basis we'll meet with you to answer any questions and make sure you're on pace to achieve your goals. We'll put together a tax planner and projections in the fourth quarter and prepare your business and individual tax returns at the end of the year.
Cost of this service is $3000/week during the 6 week onboarding process, and $9000 annually due on the first of the year.
How does it work?
The relationship works best if we are part of your weekly director meeting. We often provide a 15-minute cash update or set aside time to chat about the company's finances. Joining these regular meetings with your directors also gives us a good understanding of your company and culture, and helps us stay up-to-date on current events.
After an initial onboarding period, here's what a typical month could look like:
WEEK ONE - invoicing meeting
WEEK TWO - books are closed + forecasting meeting + financials/KPIs

WEEK THREE - follow-up projects

WEEK FOUR - follow-up projects
We are always available anytime during the month for questions, calls, impromptu meetings, etc. We find that this schedule works best for most clients, but it is definitely tailored to fit each client.
Also, if we are paying bills as part of the engagement, we will meet weekly for about 15-30 minutes to go over cash flow for the next 2 to 6 weeks. This is generally conducted with an individual team member, not the entire director team.
Which pricing tier is right for me?
Take a look at the below infographic (data from Infusionsoft) to see what growth stage your company is at.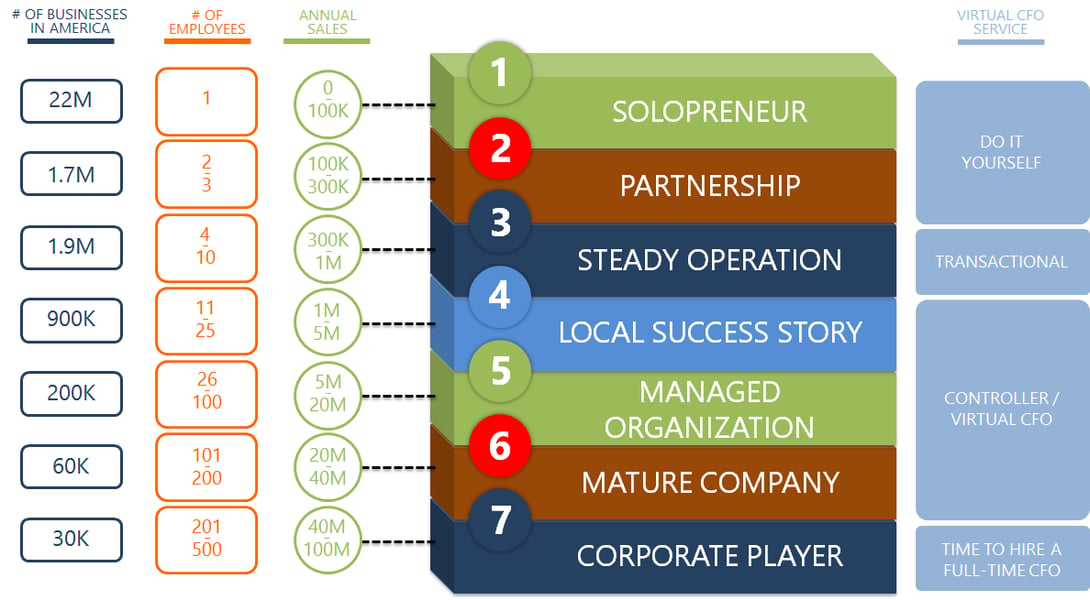 Here's how we typically work with growing companies: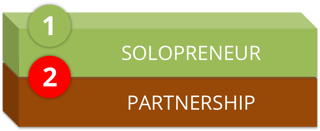 Let us handle your basic business tax returns. See our flat-fee business tax return pricing at the bottom of this page.


Check out our Transactional value tier. At this point, we're not just assisting you with tax returns, but also with more strategic planning. We're not just a team of bookkeepers and accountants. We're experts in laying a solid financial foundation to help your business accelerate.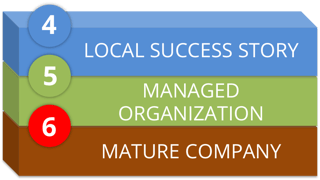 Check out our Controller or Virtual CFO value tiers. At this point, we're handling your accounts payable and receivable, and we're getting into much more strategic cash flow management and dynamic forecasting. If you're ready to scale, this kind of dynamic forecasting is a critical component of your future growth.




When you get to this point, our processes and core business model are no longer a good fit. We typically recommend that you hire a full-time, staffed CFO.
Pro Tip: Bookmark this page or download our pricing info as a PDF