Our pricing policy is fixed.
Your quote is not an estimate. We learn what you need and then use specific criteria to itemize a set price. When you receive a quote from one of our authorized representatives, this price is all-encompassing, and unless circumstances change, there will be no hidden costs or miscellaneous fees.
We price weekly so as to be treated as a member of your team, not simply another vendor you work with. Your employees won't increase their rates like a vendor might, and neither will we. We're not a traditional accountant that you see once per quarter or once per year. We're an extension of your team!
Virtual CFO Pricing Levels
The below value levels indicate how we typically structure relationships with our clients. Each row is à la carte, meaning we can customize our plans specific to you and your company's needs. Note the average price ranges for each level. We can offer you a clear, customized plan in just a one hour phone conversation, where we'll ask you questions about your business, your goals, and your budget.
Click here to schedule a call with us
.
Typical Client Size
Service Description
Onboarding Period*
Month-End Close
Financial Statements

Includes income statements, balance sheets, industry financial comparisons and more. Prepared by the 10th of each month.

Scheduled Meetings

80% of our clients are virtual. We converse regularly over shared-screen meetings, video and phone chats, and email.

Online Support

Support via phone, email and Slack.

Company-Wide KPIs

Everyone else provides boring, accounting KPIs. We do that too, but we'll also work with you to report on the numbers you and your team really care about, like "number of calls needed to get a sale," "revenue per employee" or "average service client margins."

12-Month Forecasting

What sets us apart! We take your financial statements and plug them into a 12-month forecast to see how they'll be impacted in the future.

Revenue Recognition
Incentive Plans
Performance by Project
Team Member Performance
Department Performance
Customized Dept Reports
Bank Relationships

We'll be your main point of contact and chief advocate for any credit increases or additional financing your business may require. We can also help during M&A activity.

Director Meeting
Resource Planning

Outside of the reports referenced below in the WIP, we can work closely with your Ops person to help with resourcing.

Individual Tax Return

Note: Individual tax returns are only prepared for company shareholders.

Business Tax Return
Other Bus. Tax Returns

Tax returns for property, sales and excise taxes.

Tax Planning/Projections

Handled on a regular basis, throughout the year to avoid surprises.

Need Day-to-Day Help?
Paying Bills

Typically known as 'Accounts Payable.'

Invoicing Clients

Typically known as 'Accounts Receivable.'

Cash Flow Management

Cash flow meetings are conducted weekly for about 30 minutes with one of our accounting team members to go over the short-term cash flow (2 to 6 weeks).

Payroll & Contract Mgmt
Employee Exp Tracking
Under $1M in Revenue
Proactive Lite
6 Weeks
Annually
Quarterly
Limited
Templated
Templated
Optional
Optional
Optional
Optional
--
Not Available
Not Available
Not Available
Not Available
Not Available
AVERAGE
$380/WEEK
TRANSACTIONAL
Under 10 Employees
Reactive
4 Weeks
Up to 1x/Month
Unlimited
Optional
Optional
Optional
Optional
--
A La Carte
A La Carte
A La Carte
A La Carte
A La Carte
AVERAGE
$1000/WEEK
CONTROLLER
10-20 Employees
Proactive
6 Weeks
Up to 2x/Month
Unlimited
Optional
Optional
Optional
Optional
--
A La Carte
A La Carte
A La Carte
A La Carte
A La Carte
AVERAGE
$1500/WEEK
VIRTUAL CFO
20+ Employees
Strategic
8 Weeks
Up to 6x/Month
Unlimited
Optional
Optional
Optional
Optional
--
A La Carte
A La Carte
A La Carte
A La Carte
A La Carte
*Onboarding: our team works hard to get caught up with your existing processes. We're looking at your past books, we're building a forecasting model and set of KPIs, and we're doing an audit of your financial statements / chart of accounts to make sure we're all on the same page and getting started on the right foot. Due to increased man hours those first few weeks, our published fees are 2X during each level's respective onboarding period.
**DIY Service: Due to numerous requests, we've rolled out a new program to service smaller agencies under $1M in annual revenue. We call this plan DIY (Do it Yourself). During the first 6 weeks, we take a deep dive into your financial statements and restructure them to conform with industry standards. We create a 12 month forecast and a 6 week forecast to manage yourself and handle short and long term cash flow. We'll also indentify the four metrics you'll need to focus on in order to successfully grow your business.
After onboarding, you'll use our templates and take it from there. On a quarterly basis we'll meet with you to answer any questions and make sure you're on pace to achieve your goals. We'll put together a tax planner and projections in the fourth quarter and prepare your business and individual tax returns at the end of the year.
Cost of this service is $3000/week during the 6 week onboarding process, and $9000 annually due on the first of the year.
How does it work?
The relationship works best if we are part of your weekly director meeting. We often provide a 15-minute cash update or set aside time to chat about the company's finances. Joining these regular meetings with your directors also gives us a good understanding of your company and culture, and helps us stay up-to-date on current events.
After an initial onboarding period, here's what a typical month could look like:
WEEK ONE - invoicing meeting
WEEK TWO - books are closed + forecasting meeting + financials/KPIs

WEEK THREE - follow-up projects

WEEK FOUR - follow-up projects
We are always available anytime during the month for questions, calls, impromptu meetings, etc. We find that this schedule works best for most clients, but it is definitely tailored to fit each client.
Also, if we are paying bills as part of the engagement, we will meet weekly for about 15-30 minutes to go over cash flow for the next 2 to 6 weeks. This is generally conducted with an individual team member, not the entire director team.
Which pricing tier is right for me?
Take a look at the below infographic (data from Infusionsoft) to see what growth stage your company is at.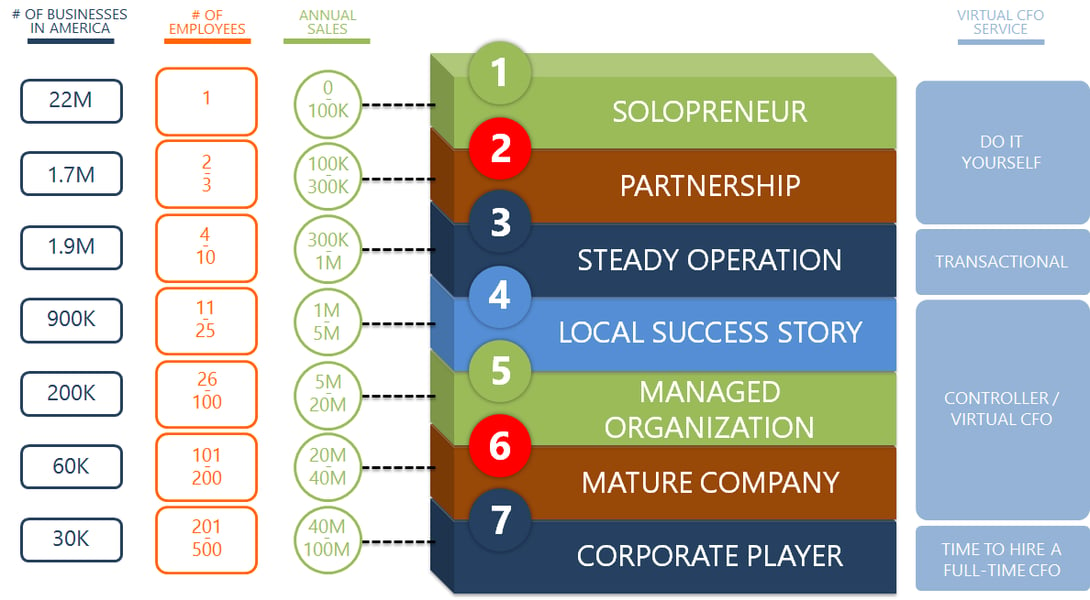 Here's how we typically work with growing companies: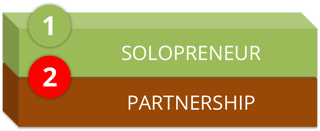 Let us handle your basic business tax returns. See our flat-fee business tax return pricing at the bottom of this page.

Check out our Transactional value tier. At this point, we're not just assisting you with tax returns, but also with more strategic planning. We're not just a team of bookkeepers and accountants. We're experts in laying a solid financial foundation to help your business accelerate.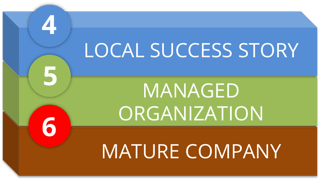 Check out our Controller or Virtual CFO value tiers. At this point, we're handling your accounts payable and receivable, and we're getting into much more strategic cash flow management and dynamic forecasting. If you're ready to scale, this kind of dynamic forecasting is a critical component of your future growth.




When you get to this point, our processes and core business model are no longer a good fit. We typically recommend that you hire a full-time, staffed CFO.
Pro Tip: Bookmark this page or download our pricing info as a PDF
I've been working with Summit CPA for the last several years. Their enthusiasm, attention to detail, and passion have brought accountability and responsibility to my staff, ensuring we hit our required targets and goals. With regular monthly meetings, Jody and his team help ensure all action items have been addresses or discussed. Summit CPA is a great asset to my company, and I would not hesitate to recommend their services and expertise to other businesses.
---
Business Tax Return Pricing
Note: Business Tax Returns are included in each of our above Virtual CFO plans
Our Business Returns are Priced on a Flat Fee. We determine the price based on the business's revenue from the prior year - a unique approach but it works well for both us and our clients. All of our fees are agreed upon before the service is rendered. In our opinion, that is the only way to do business.
Note: One state is included in the prices below. The price per additional state return is $208/year.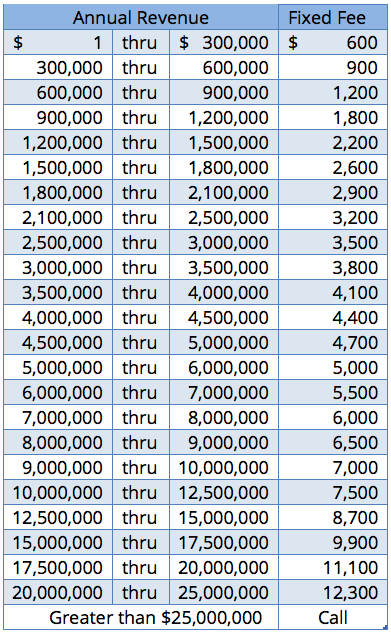 ---
Other Services
We offer a number of other flat-fee services:
Personal and business tax returns
Virtual CFO consulting
QuickBooks consulting
Payroll management
Estate / Trust administration and tax returns
IRS correspondence and audit fees
Pro Tip: Bookmark this page or download our pricing info as a PDF