Our team is happy to speak at (or moderate) your next business event.
Contact our team by phone at (260) 918-8822.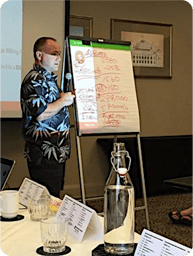 With 20+ years of experience in both public and corporate accounting, Jody Grunden and his partner Adam Hale pioneered the concept of a Virtual CFO back in 2002 just after they founded Summit CPA Group.
What's a Virtual CFO? Read below.

The Summit CPA Group team specialize in topics like KPIs, Forecasting, Virtual CFO Services, 401K Audits, and How to Run a Distributed Team.
Our Virtual CFOs have been asked to speak to National Group Conferences, State CPA societies and Client events on various topics including Cash Flow Management, Fraud Prevention and Detection and Strategic Planning.
Team members like Kristen Reinking, Jake Grimm and Jamie Nau take an active role in public speaking and conference moderation and would be happy to offer their expertise at your next event.
---
Recent Conference Participation
DRUPALCON 2017 - BALTIMORE, MD
Jody presented "Forecasting with Metrics for Digital Agencies."


OWNER CAMP - CHICAGO 2015, SEATTLE 2015, SAN FRANCISCO 2015, PUERTO RICO 2016, MONTREAL 2016, ATLANTA 2016, HONOLULU 2017, SAN DIEGO 2017, SONOMA VALLEY 2017

Running a digital agency is tough. Owner Camp attendees determine the content at each Owner Camp, ranging from discussion topics such as managing growth, time tracking, sales cycles, company culture, and grooming your client list to the law.


OPERATIONS CAMP - NEW ORLEANS 2015, MIAMI 2015, SEATTLE 2016, ASHEVILLE 2016, RANCHO SANTA FE 2017

Operations Camp takes everything a digital studio provides, puts it in a box, and flips it over. They reconstruct everything using the collective knowledge and know-how of some of the best studio operators around.

This isn't a traditional conference—it's three full days of open and honest discussion about the tools, practices, and principles that make studios thrive. It provides insight on how to fix the "stuff" that keeps us up at night.


DIGITAL PM CAMP - NEW ORLEANS 2016
Running digital projects is no easy task. Like many digital PMs, you probably didn't study any form of project management in college, and you probably don't have a PMP. Even if you do, you may be facing challenges—the same challenges your peers are facing and solving every day. Digital PM Camp is not a lecture, it's a series of moderated, candid conversations.


YONDER - SAN DIEGO 2015, SAN DIEGO 2016

Yonder is a roundtable discussion for founders, owners, CEOs, and other company leaders. It's a chance for distributed organizations to get on the same page in order to move their respective industries in the right direction. Conference participants swap notes and share what they've all learned.


DCPA - SAN FRANCISCO 2017
The Digital CPA community and profession's leaders who are truly embracing the Digital CPA era gather annually for the Digital CPA Conference. DCPA17 was full of engaging content including Jody's presentation on the best practices for effective proposals and SOWS for client accounting services.


---
Articles Published on Medium
Are You Ready for the Potential Changes to the Employee Benefit Plan Audit Report?
Want to Add Recurring Revenue Into Your Services-Based Business? Here's How.
If I were a betting man, I'd ask you to check your most recent credit card statement. Odds are you're getting billed regularly for some kind of recurring service...
How $10 Can Net You An Extra $300,000
Two of the biggest problems I see with service-based businesses are underpricing and a lack of a proper cash reserve, both of which I wrote some thoughts about in this Medium article. Enjoy!
Forecasting? You're Doing It Wrong.
Most companies employ a bookkeeper or accountant who looks at past performance to forecast what the company's next month, quarter, or year will look like. And that's fine…but it's not enough.
The Art of Cash Flow: Tackling the Lifeblood of Your Business
I've spent the better part of 15 years as a Virtual CFO, helping service-based businesses boost their financial health with stronger forecasting and cash flow management. In this Medium article, I tackle the subtle art of cash flow, the real lifeblood of your business.
The Future of the CPA Firm in the U.S.
Our take on what the CPA firm of the future will look like, taking a look at the web design industry as a basis of comparison.
About Summit CPA Group & Virtual CFO Services
Our Virtual CFO Services team you up with a Certified Public Accountant (CPA) who works with you to help guide your business to success.
Our bread and butter is working with the following types of service-based businesses:
Web Design Agencies
Marketing Agencies
Design / Branding Agencies
Advertising Agencies
Software Development Companies
...Any other service-based business
The cost of hiring a full-time CFO can range from $120,000 to over $200,000 per year plus bonuses and benefits. Our Virtual CFO Services provide you with experienced support at a small fraction of that cost.