Summit CPA Group started as a company nearly 20 years ago. In 2004, Summit began offering Virtual CFO services giving businesses the financial advice they had been seeking. Our services were almost instantly a hit. It eventually became apparent that to grow and scale, Summit would need to venture away from the limitations of our physical location. In 2013, we ditched the brick-and-mortar office and became a fully distributed firm. Something that was not heard of at the time. Today, our employees and customers are located all around the country, and we even have international employees and clients, as well.
When we went from a brick-and-mortar firm to a remote team, it was decided that intentionally maintaining our culture was important. Summit CPA Group had a great culture that the team had worked hard to build and retaining that culture would be essential for the growth of the firm. Our culture was a very anti-suit, approachable type environment, and we wanted to keep that momentum going!
In this blog post, I hope to walk you through the steps we have taken to preserve and amplify our culture while maintaining a remote team. Let's dive in.
Hiring and Candor:
How to Lay a Foundation for an Engaging, Virtual Environment
Zach Montroy, Vice President of People, Team and Organizational Strategy at Navigate the Journey, and I have focused on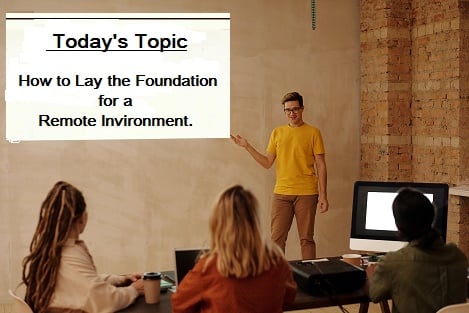 developing coaching strategies for our team members and creating a virtual environment that they love to be a part of. Beyond coaching strategies, we help with the hiring process, review process, and overall development of Summit's culture. With every task and decision, we are trying to create an enjoyable and engaging work culture with a healthy work/life balance. How exactly do we do that? Through lots of candor and purposeful hiring practices.
Hiring
There are a few different methods we use in combination to ensure we are hiring the right team members. Firstly, the Disc Assessment helps us determine if candidates will align well with our other team members. This ensures that our team enjoys who they work with and what they do. Between Zach and myself, we also make sure that candidates are asked how they communicate with others and how they like to be communicated with. Learning the communication style of potential hires along with their Disc results has aided our culture in staying cohesive and in harmony while hiring a diverse team of individuals.
Candor
The first part of candor is simply knowing our team and the goals they have professionally, personally, and operationally. By knowing that, we can help teach our team members how they can stretch themselves and improve.
In addition, we use Amplify to facilitate engagement surveys. They are used by thousands of companies across the US, offering anonymous survey collection. In our last survey, we ranked in at an approval rating of 81.91, putting us in the top 15% of service-based firms. 89% of the Virtual CFO team responded to the survey, so the majority of our team participated. The results and feedback we receive really help us improve our processes and our culture and continually aim for improvement. There is always room for improvement even if you receive amazing feedback. In fact, we recently developed different tracks and career pathing to help employees receive a clear idea of what's next and achievable for them.
Beyond intentional hiring and practicing candor, we have three pillars of building a healthy remote culture that we follow.
The Three Pillars of Building a Healthy Remote Culture
Summit CPA Group has used three pillars for building a healthy remote culture:
Building trust across your team
Supporting diverse motivations for the people on our team
Making sure we're telling the right stories
Let's dive into each pillar and how we implemented these strategies in our culture.
Building Trust Across Your Team
One important factor in building trust with your team is refraining from gatekeeping information. Do your employees feel like information is purposefully kept from them? Some leaders believe that employees should only have the information they specifically need for their job function. Nothing else. Often this is the case if senior leadership believes it will keep employees from getting distracted. However, in actuality, your team members who are strong contributors want to have all the information possible so that they can see the bigger picture and the mission that their team is working towards. This helps them frame their work strategies and feel like they are part of a larger initiative. Employees can be limited and not perform to the best of their ability when they don't have all the information available to them. Great leaders know the first step for building trust across the team is to avoid gate keeping information from their team.
In a brick-and-mortar firm, information can be passed around at the watercooler. However, in a remote atmosphere, there is no watercooler. It's important to be intentional about providing an open environment and focus on distributing information without inhibitions. This can be done through a weekly meeting or a weekly posting on an internal site. Whatever works best for your team and culture. For our team, we have weekly meetings where we share a joke, fun facts, a fun topic for discussion, and any announcements our team needs to hear. That way, we stay connected and are transparent but still have fun together. We also get together twice a year for retreats. This is a great way for our team to bond and have fun but also a way for our team to connect and discuss business together in a low-stress environment.
Another part of making your team feel trusted is by ensuring that team members aren't micromanaged. As leaders, we need to empower our team members and make them feel capable of making decisions on their own and completing initiatives without requesting feedback constantly. Create an environment of trust and empowerment over a culture of fear and micromanagement. If employees aren't working hard, you will see that in their deliverables and in missed deadlines. There is no need to micromanage to make sure they are getting their work done.
Lastly, is healthy feedback provided to your employees? Are your employees surprised by feedback? Is feedback constructive and is it normalized? Are you waiting until an annual review to tell your staff what they could have done better seven months ago? Feedback should be normalized, fair, and specific. Unhealthy and delayed feedback will only lead to distrust and fear. We regularly check in with our team members to provide feedback so they can take action right away to change practices we'd like modified. Summit's leaders also let their team members know what they are doing well, so they know what is working. This all goes back to one of our core values: candor. We want to be honest with our team members so we can all grow together.
Overall, the lesson here is that as a leader, you should aim to create an environment where team members can ask questions and approach tasks with curiosity. Your team will thrive, and individuals will feel inspired to help grow and scale your firm.
Supporting Diverse Motivations
The second pillar is supporting diverse motivations. As leaders, our teams are made up of diverse and complex people. You can't simply recruit people that are all just like you. By purposefully hiring people with different talents and skillsets, you have to be aware that your teammates will have different perspectives and priorities. Each team member is going to crave a different end result in their career and in their daily lives. It's important to build an environment that is inclusive of that and supports these goals.
In Kim Scott's Radical Candor, she talks about the difference between "rockstars", "superstars", and "nostars". She basically goes through how we need both superstars and rockstars on our team. A rockstar is solid as a rock. They are really content and happy in what they are doing, and they get better and better as time progresses. However, they don't need to move up to the next rung on the corporate ladder. At least not immediately. They aren't trying to climb as fast as they can. Rockstars give your team a sense of stability. You can recognize these individuals by simply saying "Hey, we see what you are doing and how quickly you perform your tasks. Thank you for your hard work." A promotion isn't the only way to acknowledge someone's work.
On the other hand, superstars are blazing ahead. They are driven and entrepreneurial in spirit. They are always wanting to know what the next rung is and what their next learning experience is. They look to add achievements to their belt. Giving these individuals an idea of where they could grow in your firm is a great idea. They will be most happy working towards the next "phase" and will appreciate promotions if they come.
We need both of these "types" of employees but for different reasons. Embracing the idea of creating a welcoming environment for both will lead to successful and fruitful dynamics for your team. As for no stars, these are individuals who do not perform well and don't mesh with your culture. It's okay for these individuals to have the freedom to say, "This isn't the right job for me. This isn't the right culture for me". Be open to helping these individuals find the next role that may be a better fit.
Telling the Right Stories
The third pillar is telling the right stories. Stories are a part of our daily lives and have a large impact on the way we see the world. Stories can be a part of the reason why we do the things we do. After all, stories inspire us to take action.
In much the same way, telling stories can build and bolster your firm's culture. We want to help our teams connect with our shared story. We want to tell stories to humanize our service offerings. People are much more motivated by the particular than they are by the general. Telling stories is how we are going to help people shift from just liking their work to really being proud of what they do.
For example, at Summit CPA Group, the work we do helps small businesses be successful which impacts numerous families. Our clients' families are supported when their business grows. Their employees' families are also supported by the success of the business. At the end of the day, our work impacts hundreds and thousands of people's lives for the betterment of their families and their communities. When our team members see this, they are motivated to show up to work every day energized and ready to make a difference. Stories are powerful.
Summing It All Up
While creating and maintaining a solid remote culture may seem intimidating, it isn't as tricky as one would think. Finding the right partners or leaders to implement and monitor your firm's culture is the first step. After that, it's important to stay true to the three pillars of a healthy remote culture: building trust across your team, supporting diverse motivations, and telling the right stories. A great remote culture starts with caring for your employees and showcasing that through the virtual tools at your disposal. If your employees are at the heart of your company—you are already well on your way.