The Modern CPA Success Show: Episode 48

We are recording live from Las Vegas at the CFO Retreat with Jody Grunden, Adam Hale, Zach Montroy, and Lillian Hocevar. In this episode, we will deep dive into the importance of team retreats, costs and benefits, and why you should start organizing team retreats for your company as well.
Episode quote:
"I think being in my role one of the things I've seen is the fact that we haven't had this conference for a full year.
I think it definitely affects the morale"
- Jamie Nau
The finer details of this episode:
Difference between Director and CFO retreat and why it's important to have both

Purpose and benefits of team retreats

Process of organizing team retreats impact of team retreats to employee morale

Difference of team retreats for remote vs. non-remote companies
Episode resources:
Enjoy this episode? Subscribe to The Modern CPA Success Show to get more tips and strategies for achieving virtual CPA firm success. We're here to be a resource in this ever-changing industry.
Available via iTunes, Spotify, Stitcher, and more!
You can view the transcript for this episode here.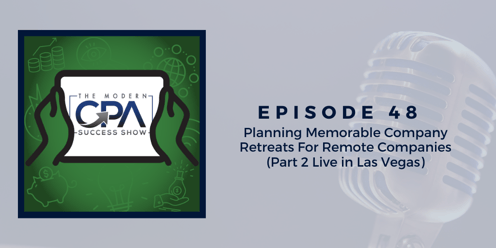 Share this podcast episode on Twitter:
The Modern CPA Success Show 🎙️ by @SummitCPAGroup:
Episode 48 - Part Two: Planning Retreats for Remote Teams 👉 https://ctt.ec/9333c+
---
Want to listen to more Summit CPA podcasts?