The Modern CPA Success Show: Episode 63
In the first quarter of 2020, we published an episode and talked all about client onboarding. We wondered what has changed at Summit CPA since? And thought why not circle back on this topic to discover the lessons we've learned.
Today, Jamie Nau, our host and Summit CPA's Director of Accounting/Virtual CFO; Adam Hale, our COO and Co-founder; Lydia Rapp, our Project Manager takes a step back to look at how far we've come in terms of onboarding clients and deep dive into the fundamentals of having a reliable process in place.
Episode Notes:
"Honestly, the way we've structured our kickoff call week. 80% of the kickoff call, just letting the CFO and the client kind of start to have those conversations, which is huge. We listen and we hear the things that are most important to them." - Lydia Rapp

The finer details of this episode:
What are we doing now that we haven't done before?
Why you should have a client onboarding process in place
What are the important things to consider when building an onboarding client?

Episode resources: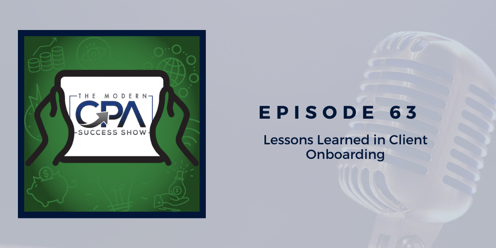 Share this episode on Twitter:
The Modern CPA Success Show for Accountants 🎙️ by @SummitCPAGroup:
Episode 63 - Lessons Learned in Client Onboarding 👉 https://ctt.ec/B2az7+
---
Want to listen to more Summit CPA podcasts?