The first thing that likely comes to mind when you hear "insurance" is probably life/health, auto, or home insurance. However, when you're doing your financial planning there is another important insurance that you need to take into consideration. That would be "disability insurance".
If you came down with an illness or had an accident and you were deprived of income, would you be prepared? It's not something that most of us like to think about but even a temporary setback could wreak havoc on your finances. Statistics show that between the ages of 35-65 it's pretty likely that a lot of us may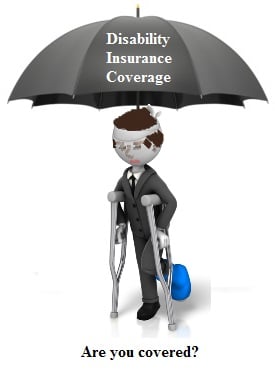 be disabled for at least 3 months, yet, even the most financial savvy will often overlook disability insurance.
If you're working you may feel that you have adequate disability coverage through your employment benefits. However, you may find this coverage may be very inadequate to cover your living expenses. For this reason, most people should consider disability insurance when doing their financial planning.
You need to consider disability insurance in to ways, long-term and short-term. Most employers provide long-term insurance, but what about short-term? If your employer only provides long-term disability you should consider buying short-term coverage to supplement during the period of disability before your long-term coverage begins. Consider these steps to ensure you get the right coverage.
Examine key policy terms. How is "disability" defined? Some policies may use "any occupation" to determine if you are fit for work following an illness or accident. A better definition is "own occupation," whereby you receive benefits when you cannot perform the job you held at the time you became disabled.
What's the benefit period? Ideally, your policy should cover disabilities until you'll be eligible for Medicare and Social Security.
How much coverage is needed? To get an estimate, calculate the after-tax income you would have from all sources during a period of disability and subtract this sum from your minimum needs.
What you can afford. Disability insurance is not inexpensive. Plan to forgo riders and options that boost premiums significantly. If your budget won't support the ideal benefit payment, consider lengthening the elimination period (but be sure that accumulated sick leave, savings, etc., will carry you until the benefits kick in).
At Summit CPA we offer multiple resources to assist you with all of your financial planning needs. Contact our office at 866-497-9761 to schedule an appointment with our advisors.