Avoid These 5 Common Website Errors
Having a business website, whether positive or negative, your presence leaves a lasting impression. Naturally you want potential customers to stick around and make a purchase when they visit your homepage. You will also want them to return for more purchases and to pass the word about your business too. For that to happen you must keep your website user friendly and current at all times. If it's not, any visitors that you do get will soon move on to one of your competitors.
As you set up your website, here are 5 common website mistakes that you should avoid.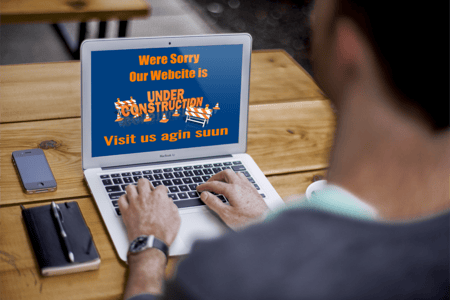 Website design. Don't design your website for yourself, design it for your customers. Don't waste time on owner or business details. Customers are visiting your website to find the products or services they're interested in when they clicked on your website. If they can easily find what they are looking for they may stick around to see what else your business has to offer.


Poor load time. If your customers are using their smart phone or a tablet to visit your website, too many heavy graphics will result in poor load time. Many potential customers won't want to wait very long for the page to load and will move on to a more user friendly website. Examine your graphics to make sure you offer a mobile phone capablity app for seamless load experience for your potential customers.



User friendly navigation.

Your potential customers may become frustrated if your homepage is too cluttered. Be sure the website is easy to navigate from your homepage to other pages and back again. You should use a few clearly-labeled menu tabs at the top of the page. Be sure that all your pages are easy to access and user friendly.


Old data. No one wants to visit a website and find out that it hasn't been updated for a few years. If you want potential customers to visit your website and keep coming back, you have to keep your website up-to-date and looking fresh. Making a website is not a onetime thing, you have to update it often. It's important to keep your products/services and prices current. If you're not sure how or don't have the time, you might want to consider subscribing to a content service that will keep your website looking fresh and current.


Messy content. If your website is peppered with typos, bad grammar, and industry verbiage, it will just turn your potential customers away. After all, how can your customers trust your products/services if you don't even care how your business website looks like.
A good looking and well-crafted website will leave a lasting impression of quality products and professionalism. It will not only draw customers in, but it will enhance their buying experience and you will very likely add return customers.
At Summit CPA we offer multiple resources to assist and help your business grow. Are you ready to get an edge on your competitors? Contact our office at (866) 497-9761to schedule an appointment with our advisors.