These days scammers are pretty tech-savvy. Sometimes a phony email is pretty obvious while others look like legitimate emails from a trusted source. Do you think you would be able to detect a phishing email?
Even when you think you know what to look for, it's easy to get busy and miss the signs before we click. Once you click that link or open that attachment, it may be too late. It could be an email containing a virus that destroys your computer, or it could be a site that steals all your information and your identity. It could also be a more recent scam that locks up your computer until you pay a ransom to get your data returned. Below are things to be aware of so that you don't fall victim to a scam.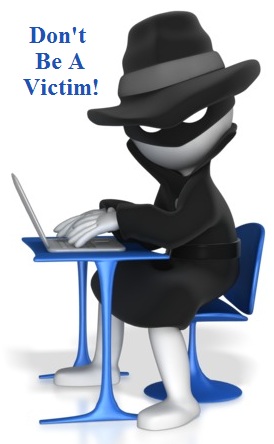 Fake email address. Look for errors and misspelling in the email address. You can highlight the email address or link by moving your mouse over it to reveal the true address.


Grammar errors. Look for typos or bad grammar within the email message.


Attachments. Unless you are expecting correspondence, avoid opening attachments or links in an unsolicited e-mail that may contain a malicious code that will infect your computer. Some emails may appear authentic and ask for personal information like account and PIN numbers.


Update requests. Look out for an email requesting updates to your personal account information. Even if you recognize the company, don't click the link. Call the company to make sure they sent the request. Never give out your personal information unless you initiate the contact.



IRS Refunds

. Don't respond to emails that say you have a refund when you don't remember being eligible for one. For example, you may get an email that means you are entitled to an unclaimed tax refund. The IRS will not contact you through an email; they will send you a letter through the regular snail mail.


Threatening emails. Don't respond to an email that threatens a consequence for not responding to the email. For example, a bogus email from the IRS may threaten late fees and penalties, additional taxes, or blocking access to the recipient's funds. Once again, the IRS will not contact you through an email or by phone; they will send you a letter through the regular snail mail.
If you do receive a suspicious IRS email you should take the following steps:
Visit the IRS Web site at www.irs.gov, to use the "Where's my refund?" interactive tool to determine if you are getting a refund, rather than responding to the e-mail message.


Forward the suspicious e-mail or URL address to the IRS mailbox phishing@irs.gov, and then delete the e-mail from your inbox.


If you believe you are or may be a victim of identity theft or any other scams, visit the U.S. Federal Trade Commission's Web site for identity theft at www.OnGuardOnline.gov, for guidance on how to proceed.
At Summit CPA we offer multiple resources that will help get your business on the right track. For more tips contact our office at (866)-497-9761 to schedule an appointment with our advisors.