Anyone can set up an estate plan, though it's always better to have the assistance of a professional to make sure it's done correctly. That's because, depending on your assets, things can get a little complicated and you want to avoid errors that could be costly to your heirs.
However, if you prefer to use "do-it-yourself" estate planning websites or forms to save money, the important thing is to dot all your "i's" and cross all your "t's" to protect your heirs. To avoid errors, review the following items.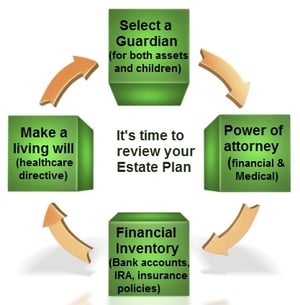 Beneficiaries. Don't forget to name beneficiaries, as well as secondary beneficiaries, for all of your retirement accounts, bank accounts, insurance policies, and any other assets you own.


Executor or Trustee. Be sure to name a trustee or executor to your estate. You may also want to name an alternate trustee or executor.


Guardian. If you have minor children, don't forget to name a guardian. To be on the safe side, you may also want to name a secondary guardian. If your first choice for guardian lives far away, name a local temporary guardian who can care for your children until their permanent guardian is available. Take the time to talk to those you choose about any details that are involved.


Who gets what? Do you have certain assets you want to leave to someone special? Be sure to name the recipients for these personal possessions in your will or through special documentation.


Trust. If you have a trust be sure to properly fund and title the assets in the trust.


Trusted family member or friend. Be sure to tell a trusted family member where your important documents are located, such as a list of your assets, your will, and the written estate plan. Include your online account numbers and passwords too.


Update documents. Life happens. Be sure to update all of your estate planning documents as circumstances change, such as a birth, death, marriage, divorce, etc.
If you neglect to create an estate plan, it leaves the court system the authority to make the decision about how your assets will be distributed. If you have questions or need assistance, contact our office at (866) 497-9761 to schedule an appointment with our advisors.