If you're a small business owner, you may be concerned about a big-box chain store moving into town. And why wouldn't you be concerned? Chances are, you will lose some of your customer base when big business moves in and offers lower prices. So, don't wait until the last minute to prepare for the day a big business moves in. Start strategizing now. Figure out a plan to stand out from other businesses. Below are some strategies that have proven to be effective for many small businesses.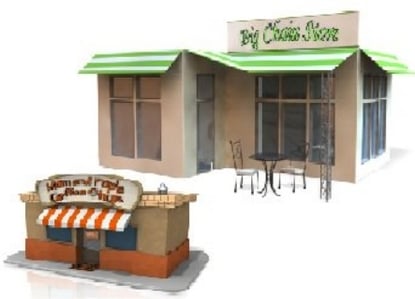 Competition. Learn to compete on your own terms. It's very doubtful that your small business can compete with big business based on prices alone. Get feedback from your customers to find out what they feel is great about your business or how you can improve. It's not always about a good bargain. Good, attentive customer service goes a long way in customer retention.
Use your advantages. Provide services tailored to your individual customers that will allow you to bond with your customers. Good customer service will not only help you to retain customers but you will also gain customer loyalty.
Hire and retain great employees. When you provide a great work environment, retaining great employees is not usually a problem. When you hire new employees, provide in-depth training. When an employee knows their job and what is expected of them, things run more smoothly and it will make for a happy work environment.
Customer service. Most likely, at some point we've all come in contact with employees of big companies that don't seem to be trained well, that have been inattentive and even rude at times. When you own a small business this should never be tolerated from employees. You should not ignore customer complaints or bad customer service. This behavior will alienate your customers and could mean the difference between success and failure for your business.
Revenue sources. If a large competitor were to move in nearby, you could add new revenue resources to your small business. For example: If you own a bakery or deli shop, you could add delivery or catering as a new source of revenue. Even if you do lose a small share of the market, adding new resources will help to offset those losses.
Distinguish your product or service. Do you carry specialty items? Can you provide products grown locally? Or, maybe you offer fast delivery of your products. If you can show your customers how you stand out from your competitors, they are more likely come to you when they need your service or product.
Whether it's a large or small business, providing good customer service, quality products or services, at a reasonable price will attract customers to your business. At Summit CPA we offer multiple resources that will help get your business on the right track. For more tips contact our office at (866) 497-9761 to schedule an appointment with our Advisors.