It's time for a mid-year tax plan review to make sure you are on the right track and make any necessary adjustments. You can keep your stress level down at tax time by filing those receipts as soon as possible. When your files current and organized the process goes much smoother and you won't be running around at the last minute looking for receipts.
You need to keep all records that directly support income or expense items. Here's a refresher of important records to keep.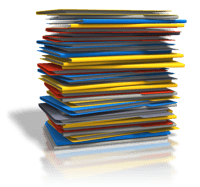 * Income records. This records include your W-2s, 1099 forms, dividend statements, investment statements, and bank statements as well as any other earned income.
* Expenses. This includes receipts to support your itemized deductions. For example: charitable donation, mortgage interest, medical bills, child care. Also, include your work related expenses such equipment, uniforms, work shoes, travel, meals, etc. For those self-employed you may also include medical premiums, out of pocket expenses, and office space, etc.
The IRS suggest that you keep your records for 3 years after you file your return. Though in a case where income is under-reported, or you need to file an amendment the IRS recommends that you keep your tax returns and supporting document for 7 years.
There are certain records that you may want to hang onto even longer. These records would include your W-2s, just in case you ever need to prove your earnings for social security purposes, your investment purchases, dividend re-investments, and any major gifts that you give or receive. You may also want to keep records that pertain to your home purchase and receipts for home improvements to your home.
If you need further information about the records that you should keep or how long you should keep them, contact our office at (260) 497-9761 to schedule an appointment with our advisors.