Tax planning is an important process for individuals and businesses. A tax plan review allows you to look at all your tax options and determine when and how to plan ahead to reduce or eliminate your taxes.
Some small businesses tend to ignore tax planning until they meet with their accountant at tax time and discover they could have reduced their tax bill had they planned a head. Tax planning is an ongoing process. You should review your income and expenses on a monthly basis. You should also meet with your tax advisor quarterly to analyze how you can take full advantage of all provisions, credits, and deductions that are legally available to you.
Although tax avoidance planning is legal, tax evasion (the reduction of tax through deceit, subterfuge, or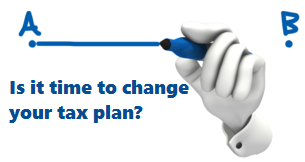 concealment) is not legal. What sets tax evasion apart from tax avoidance is the IRS's finding that there were some fraudulent intent on the part of the business owner. The IRS examiners commonly focuses on four areas that point to possible fraud.
* Failure to report substantial amounts of income, such as a shareholder's failure to report dividends, or a store owner's failure to report a portion of the daily business receipts.
* A claim for fictitious or improper deductions on a return, such as a sales representative's substantial over-statement of travel expenses, or a taxpayer's claim of a large deduction for charitable contributions when no verification exists.
* Accounting irregularities, such as a business's failure to keep adequate records, or a discrepancy between amounts reported on a corporation's return and amounts reported on its financial statements.
* Improper allocation of income to a related taxpayer who is in a lower tax bracket, such as where a corporation makes distributions to the controlling shareholder's children.
Good tax advice is a valuable commodity and very important to have when you are making your tax plan. If you need assistance with your tax plan contact our office at (260) 497-9761 to schedule an appointment with our advisors.