If you haven't already filed your tax return, today is the deadline. Late tax returns may be subject to late fees and costly tax penalties. Here is a list of today's (April 18th) tax deadlines.
* Your Federal and State tax returns are due today.
* Can't file your 2016 tax return by April 18? File an extension request with the IRS to get an extra six months to file. Remember: The automatic extension gives you more time to file your taxes. However,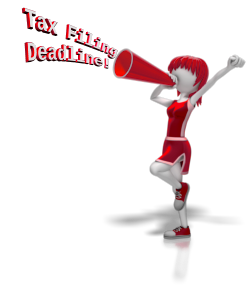 you still must pay your taxes due by today-- April 18, 2017.
* Federal gift tax returns are due today, the same date as your income tax return.
* The first installment of 2017 quarterly estimated tax is due today.
* Today is the deadline for making 2016 IRA contributions.
* If you haven't collected a refund for taxes you paid in 2013, you have until today to do so.
* If you are using direct deposit to receive your tax return, triple-check your account and routing numbers.
Tax tips:
* If you had a large refund or owed a large balance on your tax return, consider adjusting your tax withholding on your W-4 with your employer.
* Taking the standard deduction is easy, but compare it to itemized deductions to find the option with the best tax results.
* IRS second quarter 2017 interest rates for overpaid and underpaid taxes remain the same as first quarter rates.
* Keep tax records of simple returns for three years after filing; keep complex returns for seven years.
* Are you owed money from the IRS? The IRS is holding $1 billion in unclaimed refunds for the 2013 tax year.
At Summit CPA we are here to assist you with all of your tax and financial needs. Contact our office at (260) 497-9761 to schedule an appointment with our advisors.