If your paycheck looks a little higher lately, it could be due to the presidential executive order signed recently that was to start on September 1st. The executive order is a "temporary deferral" of an employee's portion that is paid into Social Security taxes, who meets the income threshold amounts. This deferral ends on December 31, 2020, and will then need to be repaid by the employee sometime between January 1st and April of 2021. The executive order also states that the amounts deferred will "not" be subject to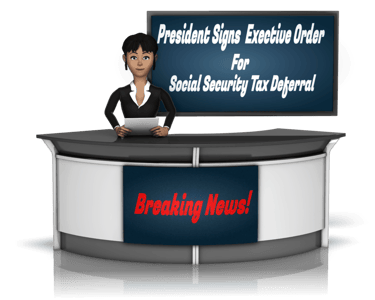 interest, penalties, or additional taxes.
However, repayment could mean a big tax surprise for those who aren't expecting it.
So, how do you know if your employer is participating in the deferral program?
Compare paystubs
Look at your paychecks and compare the amount of Social Security tax that was deducted in August and September. If the tax deductions are the same on both check stubs, then

your taxes

are being withheld as they normally would be.
However, it you notice different tax deduction amounts between the 2 pay stubs, in early 2021 you may have a tax repayment bill.


Continue checking each paycheck
Employers are still trying to determine if they are required to comply with the executive order and how to figure out how to comply. There is also a question about whether or not the tax will be forgiven. So be sure to keep track of your paystubs until the end of 2020.


Repayment
If your taxes have been deferred from your paycheck through the end of 2020, you should be prepared for a substantial tax increase beginning in 2021. If possible, consider putting the deferral amount in a savings account and use that amount to get you through the repayment process.
* It's important to note that employers can opt out of this deferral program.
We will post updates for the tax deferral process as they become available. At Summit CPA, we offer multiple resources to assist in all your tax and financial needs. For assistance, contact our office at (888) 497-9761.