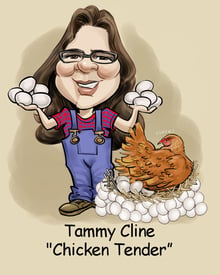 As a distributed company, not only do we serve our clients remotely, but our team members work remotely as well. We understand the accounting, bookkeeping, cash flow management, and tax nuances of running a distributed company. We pride ourselves on our ability to provide the highest quality Virtual CFO services and 401(k) Audits while working remotely with (and for) our customers, and we couldn't do any of it without our amazing team.
Every month we spotlight one of our employees so you can get to know us better.
This month we bring you Tammy Cline. Tammy has been with Summit CPA Group for 2 years. She is a Senior Auditor on our 401(k) Audit team.
Here are 10 things about our October Employee Spotlight, Tammy Cline!
What is your favorite thing about the 401(k) Audit team?


My favorite thing about the 401(k) Audit team is that we work independently on our audits. I think that is the most productive approach for me because I gain so much more experience from doing the complete audit, rather than one or two sections, and I have the support and resources to address issues that are new to me.



If given the opportunity to be the boss for a day, which is the first thing you would do?


If I were given the opportunity to be the boss for a day, the first thing I would do is go shopping. I don't have any Hawaiian shirts.



In particular, which team building activity is your favorite?


The Audit team goes to the AICPA Employee Benefit Conference each year, and it's great to have the opportunity to spend time in person with the other auditors, and to travel to places I haven't been before, like Indianapolis or New Orleans. We learn about changes to the requirements for 401(k) audits and do our team building activities at the same time.



Who would be the first celebrity guest in your very own talk show?


If I had my very own talk show, I would like my first guest to be Elon Musk.



Any particular skill that you would recommend to everyone to learn?


I think listening is a skill that everyone should practice. Things move at an incredibly fast pace these days, and I think it's important to make a conscious effort to stop and give our complete attention to what someone else is saying.


What is the most adventurous food you've ever eaten?


I am not a very adventurous eater, but my husband is. He is an amazing cook. He sneaks things on the menu and I end up trying them before I know what they are. I have tried tongue, octopus, and chitlins.


What's a favorite family tradition?
We like to do something different the day after Thanksgiving that we haven't done before. We have hunted for diamonds, visited a haunted hotel, and toured a little Victorian town in the Ozark Mountains.



Are you reading anything interesting right now?


I am reading a book called 'Do Hard Things' with my son. It is a book for teenagers that I have read with all my kids, but it still resonates with me. It is about getting outside your comfort zone and not being afraid to risk failure.


What is your greatest strength you bring to your job?
We can have many audits in progress at the same time and being able to keep all the audits moving forward at the same time can be a challenge. I think the greatest strength that I bring to my job is project management. It is one aspect of the job with which I feel really comfortable. It probably comes from having seven children.


How many cities have you lived in during your life and which is your favorite?


I've lived in more than thirty cities during my life. My father was in the military and we moved a lot when I was growing up. My favorite city was Vicenza, Italy. I loved the history and the architecture and the art. We lived about forty minutes from Venice, and my friends and I spent a lot of time there on the weekends.



Want to work for one of the top 100 remote companies? Visit our career opportunities page.