The Indiana CPA Society honored the state's top CPAs at its annual CPA Celebration on May 12. Each year INCPAS recognizes CPAs who have served their profession and/or communities in an outstanding manner. The contributions these professionals make reflect positively on the individuals as well as the CPA profession.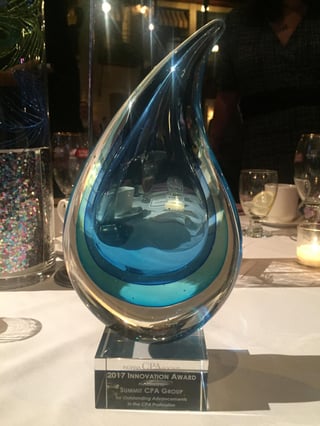 This award recognizes a transformative individual or firm implementing unique, forward thinking activities designed to address future issues and needs.
For the past seven years, the Summit CPA Group based in Fort Wayne has been initiating changes in its business model to thrive into the future. It is a leading provider of Virtual CFO services and Virtual 401(k) audits that has implemented many progressive strategies to differentiate itself among the marketplace. 70 percent of its business is Virtual CFO services with the other 30% dedicated to 401K Audits. It resides in a virtual office environment with just under 40 employees, all but four whom work remotely. It is now a completely cloud¬based accounting firm. It's grown its workforce from 10 to nearly 40 full¬time employees in only three years, employees are located in 10 states and its client base is represented in over 40 cities across the country.