The Virtual CPA Success Show: Episode 58
Have you heard the news? Last April 1, 2022, Summit CPA has officially joined Anders CPA + Advisors (Anders) with a vision to achieve their highest potential together. Anders is a Top 100 St. Louis-based CPA and advisory firm that has delivered full-service accounting, tax, audit and advisory services to growth-oriented companies, organizations and individuals for more than 55 years. In this special episode, Jamie Nau, our Director of Accounting and host, interviews Jody Grunden, our CEO and co-founder, and Robert Minkler Jr., Anders CPA + Advisors' Managing Partner, to talk more about the merger and how it came to fruition.
---
Episode Notes:
" Just because things are going well doesn't mean they can't be better. So that's what we try to live by. " - Robert Minkler Jr.

The finer details of this episode:
The merger story of Summit CPA and Anders
How the merger benefits both Summit CPA and Anders
What stakeholders should expect with the merger
Episode resources: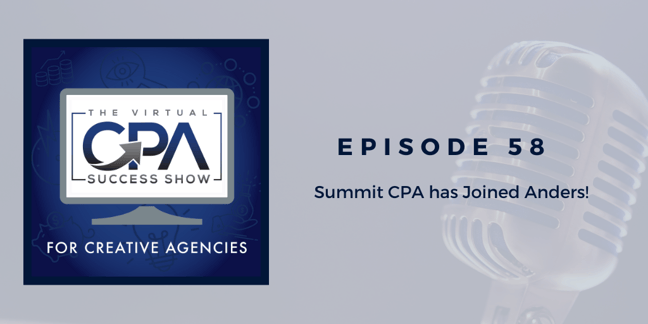 Share this podcast episode on Twitter:
The Virtual CPA Success Show for Creative Agencies 🎙️ by @SummitCPAGroup:
Episode 58 - Summit CPA has Joined Anders! 👉 https://ctt.ec/dJL4R+
---
Want to listen to more Summit CPA podcasts?