What would you do if a friend or family member were to ask you to cosign a loan for them? Everyone needs a helping hand at some point in life even if it's just to establish credit for the future. One things for sure, you should follow your head and not your heart. Why? Because there could be financial implications.
* One financial implication when you cosign for a loan is that when your friend or family can't or doesn't pay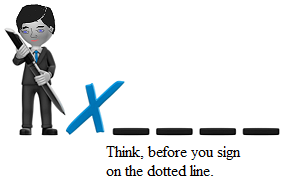 the loan, you are responsible for the debt. An online credit card marketplace survey recently showed that about 38% of cosigners ended up having to pay some or all of the loan they cosigned.
*Another big financial impact is the negative affect on your credit score. When your friend or family member either doesn't pay the loan or pays it late it can not only bring down their credit rating but your credit rating as well.
Being a cosigner on a loan may also have an emotional side effect too. Though it may start out as a good deed to lend a helping hand, many cosigners will also experience damage to that relationship due to late or unpaid loans. Before signing on that dotted line, be sure you are willing to pay the debt if your friend or family member can't.
At Summit CPA we offer multiple resources to assist you with your financial needs. Contact our office at (260)-497-9761 to schedule an appointment with our advisors.