Black Friday is the official kick-off for the holiday shopping season. Though some retailers have recently started having big sales on Thanksgiving Day too. Do you know why it's called Black Friday? This is the day retailers can really begin to make a profit or operate in the "black", making up for the times throughout the year that is not so profitable. It's also the busiest shopping day of the year. Although it's not actually a holiday, most schools are closed and many non-retail employees have this day off.
For those who don't like fighting the crowds, there will be many great deals online too. Be sure to visit only secure websites. One way to know the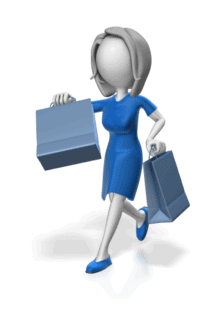 site is secure is to look for the "lock" symbol in the taskbar. When you're not confident the website is safe, don't use the site. Better safe than sorry. Below is a list of Black Friday shopping tips.
Have a plan. Many of the sales will be for a limited time. For example 6 a.m. to 10 a.m. or midnight to 2 a.m. If there is something you want bad, go their first. But, be prepared, you likely won't be the only one that wants that item. If it's the last item, don't get into a brawl over it unless you want to be featured as the news headline. Though the doorbuster sales aren't usually eligible for rain checks, it won't hurt to ask.
Fuel up. Your body needs fuel, just like your car does. "Hangry" people (angry hungry people) make it hard for themselves and everyone around them. Before you leave home take time to have a meal. Take a snack with you.
Cash or charge. For safety reasons, leave your purse at home. Carry only small amounts of cash in your pocket or better yet, use a charge card for your purchases. Make sure your card has a low-interest rate with a spending limit large enough to cover your purchases. Using a charge card will make it easier to make returns and dispute any charges or fees for purchases.
Parking spot. If you see someone is going for a parking space, don't race in and grab it, then jump out and run into the store without looking back. Even worse, don't look back smiling and waving, while trying to act innocent after you know that you've stolen that parking spot. Just "don't" do it. You know who you are.
Mind your manners. Be kind to the retail staff, stockers, and cashiers. They get up especially early so that the stores can open. They are tired too and would rather be shopping or home with their family. Remember, they're just doing their job. If you have a beef, take it up with a manager. Preferably, after you have cooled off. The managers are also just employees doing their best to ensure you have a good shopping experience.
Receipts. Keep your receipts. Many stores won't return items without a receipt. It's a good idea to keep your receipts in your pocket and separate from your purchase. If someone steals your purchase, they won't have the receipt, and it will make it more difficult for them to return the item for cash. If you charged those items, be sure to report the stolen items to the card company. It will make it much easier for you to dispute the charges on your card.
Proof of purchase. Keep your receipts if you purchase big-ticket items as a gift, a home improvement, or make a large donation to the bell ringers, etc. There are certain gifts, home improvements, and donations that are tax-deductible. You will need the receipts as proof of your purchase or donation.
Your budget. Do your best to stay within your holiday budget. You will be glad you did.
Now go out and keep the economy strong. As the saying goes "shop till you drop".
At Summit CPA we offer multiple resources to keep you on the right financial track. For more tips, contact our office at (866) 497-9761.