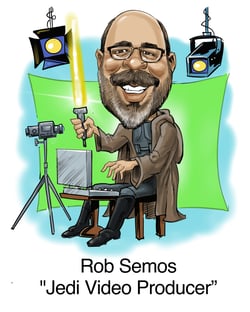 As a distributed company, not only do we serve our clients remotely, but our team members work remotely as well. We understand the accounting, bookkeeping, cash flow management, and tax nuances of running a distributed company. We pride ourselves on our ability to provide the highest quality Virtual CFO services and 401(k) audits while working remotely with (and for) our customers, and we couldn't do any of it without our amazing team.
Every month we spotlight one of our employees so you can get to know us better. This month we bring you Rob Semos. Rob has been with Summit CPA Group for 1.5 years. He is our Video Producer here at Summit CPA Group.


Here are 10 things about our June Employee Spotlight, Rob Semos!
What's one professional skill you're currently working on?

I feel with all this tech we have at hand, we are losing the art of taking time and listening and asking the questions needed. In storytelling through video, that is of extreme importance.


What's the coolest (or most important) trend you see today?

The use of video to tell a client's story, but not just from client-created content, being able to take what others are saying and use it in a way to help a brand's message in ways the client had not thought of. That is the strength of using an experienced editor to help tell your story.


What's your go-to productivity trick?

While watching a raw video, I tend to start blocking stores with clips/segments, sometimes duplicating footage to create other blocked-out stories. This way, I have a good sense of what we have and how it can work in stories. This also helps provide clients with requested versions and shorter versions of content at little cost.


How do you prefer to end your workday?

I end my workday by writing some notes on what needs to be done the next day…any last-minute ideas on edit that I was not able to finish. The next thing is to backup, backup… BACKUP all progress for that day.


What's your all-time favorite dessert?

Blueberry pie


What's one of your favorite T.V. shows?

Suits


If you could be famous for one day, what do you want to be famous for?

Inventing antigravity


What's the first thing you notice about people?

Their eyes


What kind of weather do you prefer: hot or cold?

Cold – sweater weather


If you won the lottery, what is the first thing you would do?

Give some to a few people that I know could use some cash.

Want to work for one of the top 100 remote companies? Visit our career opportunities page.