Since 2013, Summit CPA Group has been a distributed company. Our team members work from wherever they are across the country (some even in other countries).
There are a lot of perks that come with working remotely, such as no commute, having a flexible schedule, and getting to live where you want and still do the work you love. According to Buffer's State of Remote Work Survey, 99% of remote workers said they would like to work remotely, at least some of the time, for the rest of their career.
But even with all of the positives remote work provides, occasionally getting together with co-workers in person can be a really great morale boost for the team. Company retreats help remote workers get to know each other on a more personal level, build trust, and strengthen company culture.
Earlier this month, Summit CPA held its annual company retreat in Indianapolis, Indiana. The team stayed at the beautiful Ironworks Hotel. Here's a recap of our time together with photos:
We had a pre-retreat cocktail hour and dinner together on Thursday night once everyone arrived. Friday morning one of our multi-talented accountants, Alyssa Colf, led a rooftop yoga session.
Jody Grunden (CEO) & Adam Hale (COO) then kicked off the team retreat on Friday morning.
Zach Montroy, our VP of People & Organizational Strategy, led a fascinating session on DiSC styles. Our team is seen in this picture doing an ice breaker activity at the beginning of that session. We had a lot of fun and learned a lot about ourselves and one another.
Throughout the retreat team members gave departmental reports and inspirational lightning round speeches. One of the team's favorites was the Getting Things Done (GTD) presentation by Tom Wadelton, Virtual CFO. Tom talked about the difficulties of trying to keep up with everything we have to get done every day, and he challenged us to read the book Getting Things Done by David Allen. He even coordinated two book discussion groups for people who wanted to read the book. After the retreat these groups started getting together regularly for accountability with reading the book and applying the GTD methods to our workflows.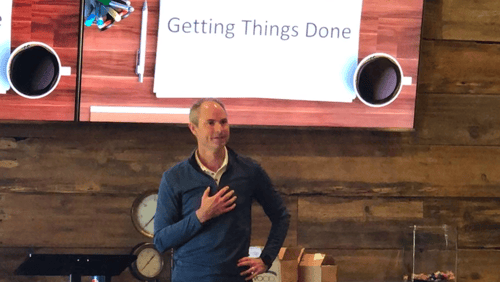 Overall, the retreat was insightful, educational and informative, but we also had a lot of fun together! We broke up into small groups for dinners together in various locations around Indianapolis.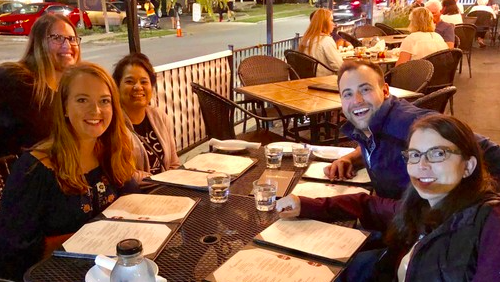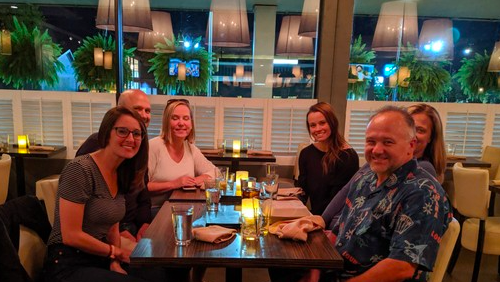 We spent our last evening together at Top Golf where Director of Tax Dave Danic presented fun awards such as the Human Wikipedia Award (Jake Grimm, Director of Technology), the Most Creative Corner (Angie Douglas, Virtual CFO & Tax Manager), and the Calm, Cool & Collected Award (Audrey Giannini, Virtual CFO).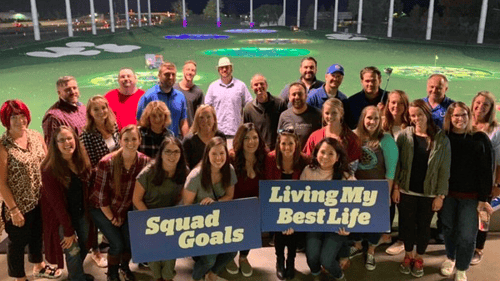 Team retreats can provide a powerful bonding experience for remote workers. If you run a distributed team, we highly recommend investing in get-togethers like this. It's an important part of doing business remotely that shouldn't be overlooked.
Want to join our remote team?