The Virtual CPA Success Show: Episode 52
In this special episode, Jamie Nau, our host and Summit CPA's Director of Accounting/Virtual CFO does a throwback to 2021 to discover the best performing podcasts from last year that will give us and idea of how 2022 will look like for us in this show.
Sharing how we will use this information to navigate the upcoming podcasts that interest you. Also, in case you missed these top 10 episodes it's a chance for you to tune in and get yourself in the know.
---
Episode quote:
"This information is really important for us in terms of organizing and planning our podcast going into 2022. So we wanted to let the listeners know what 2022 is going to look like."
- Jamie Nau
The finer details of this episode :
What are the top performing podcasts episodes on the Virtual CPA Success Show in 2021?

What three topics drive more podcast downloads?

Why did these topics perform well?


You can view the transcript for this episode here.
Episode resources:
Enjoy this episode? Subscribe to The Virtual CPA Success Show for Creative Agencies to get more tips and strategies for achieving creative agency success. We're here to be a resource in this ever-changing industry.
Available via iTunes, Spotify, Stitcher, and more!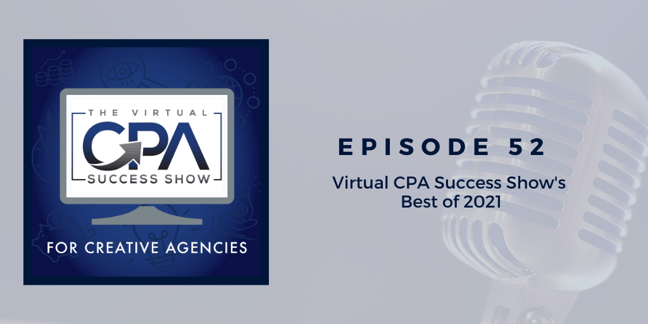 Share this podcast episode on Twitter:
The Virtual CPA Success Show for Creative Agencies 🎙️ by @SummitCPAGroup:
Episode 52 - Virtual CPA Success Show's Best of 2021 👉 https://ctt.ec/2e5f5+
---
Want to listen to more Summit CPA podcasts?