Although Black Friday started with blockbuster sales on Thanksgiving, today is considered the official kick off for the holiday shopping season. Stores are opening early and offering doorbuster deals to the earliest shoppers. Some stores offered deals as early as 2 pm on Thanksgiving Day while others may open at Midnight or 4 am this Friday morning. Depending on the deal, lines can be extended as far as the eye can see. Are you one of the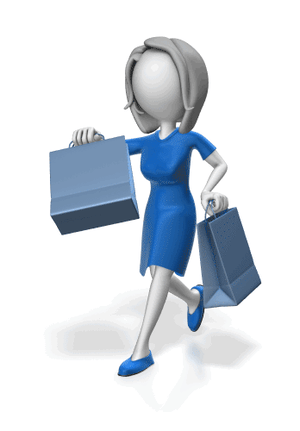 daredevils that has the courage to venture out for the special deals?
A lot of shoppers love the excitement of fighting crowds at the store to find the best deal. Although, the idea of online shopping has really taken off. This year about 47% of shoppers say they will shop online. Don't forget to save a little shopping for tomorrow's "Small Business Saturday". Needless to say there are a lot of good deals out there whether you shop online of at your local stores.
Here are a few tips that may make your shopping more enjoyable.
* Don't break the bank. Stay within your budget. Have a plan when you shop that includes where to go and a list of things you want to buy. There are multiple websites that will help you find the best prices on products. For example: Three sites that may be of help are: shopify.com, RetailMeNot.com, and PriceGrabber.com, etc.
* Be safe. If you venture out to the stores, you'll have one less thing to keep up with if you leave your big purse at home and put your ID and cards/cash in your pocket. If you are shopping online, only visit websites that you know are safe. Steer clear of unfamiliar or unsecure websites. Look for the lock on the search bar of websites you visit. Try using only one credit card for all your holiday shopping, it will be much easier to keep up with your purchases and your spending.
* Be charitable. While you're out shopping, don't forget those who are less fortunate. Even in this good economy, there are many in need of assistance. For example; you can donate to the Salvation Army, Toys for Tots, or grab a name from a Christmas tree. It can make you feel good and you may be able use your donation as a tax deduction later.
* Be considerate. Store employees are giving up family time to work those long hours so you are able to get those good deals. Remember, they don't make the rules for the sales. They don't have control over how many of each item is stocked for the sale or who gets what discount. They are likely seasonal employees who are working hard to ensure that you are a satisfied customer.
* On the road. Be aware of your environment at all times. Be courteous on the roads and in the parking lots. Don't text and drive. If you're tired, take a little break to rest those achy feet and plan your next move.
* Most important. Be safe and have fun. Happy shopping!
At Summit CPA we are here to assist you with all of your tax and financial needs. Contact our office at (866) 497-9761 to schedule an appointment to find out how we can make your life easier.