To be successful, a business depends on its supply chains to keep operations running efficiently. When things are not running smoothly, you may have trouble producing and shipping your products. These issues may also have a negative effect on your internal business needs.
As you already know, the COVID-19 pandemic has been disastrous for many small businesses due to the loss of or sharply reduced income. There is financial assistance available, such as the PPP (Paycheck Protection Program) loan. In most cases, the total amount of the PPP loan is eligible for forgiveness, as long as the loan is used for qualified expenses.
Keeping track of your income and expenses is more important than ever now. Using QuickBooks financial management tools, you will be able to maintain records of the vendors who make up your supply chain. Here's how it works.
How to Create Vendor Records
You may have already begun the steps of creating vendor records, so this is a refresher of how it works. First, in the tool bar, hover your mouse over Expenses, then select Vendors. You will see a list of vendors here if you have already added vendors. If you need to create a new vendor, click New Vendor in the upper right. This form mostly consists of contact information. However, there are a few fields that need special attention. These include:
Cost rate/hr

and

Billing rate/hr

. These help you track time costs for your projects. Don't enter anything here if you pay vendors via bills or expenses.

Due on receipt? 15 days? 30 days?

Account no.

and

Business ID No.

You should have these on file.

Track payments for 1099.

Put a check in this box for any 1099 contractors.
After entering this information, click Save and the vendor will appear in your list.
Taking Action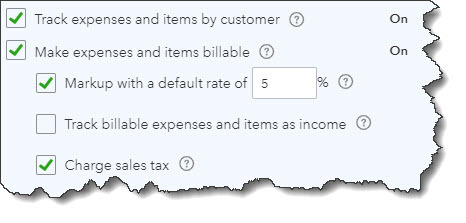 You can take a number of actions from QuickBooks' Vendors screen.
You have the ability to do much of your work directly from the QuickBooks Vendors page. The vendors screen displays a list of all your vendors with columns for vendor Phone, Email, and Open Balance. Depending on whether there is an outstanding balance, there is an Action column at the end of each row. The link will either read Create bill or Make payment.
By clicking on the down arrow in that column, you will find a list of additional options. When there is a zero balance, you can Create expense, Write check, Create purchase order, or Make inactive. When money is due, you have the option to Create bill or Create expense. In the upper right you will find icons that allow you to print the list, export it to Excel, or change the column settings.
Collecting Your Billables
Before looking at vendor records in QuickBooks, you should check a couple of settings to make sure you're billing your customers for every expense they incur with you. To do this, click the gear icon in the upper right corner and select Your Company | Account and Settings, then click on Expense. Among others, you'll see these options: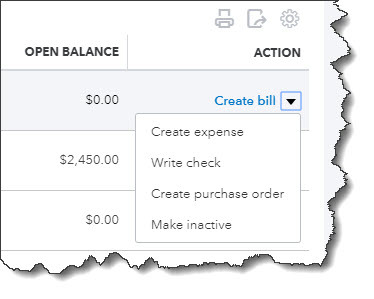 If you incur expenses on behalf of customers, be sure you will be reimbursed
for them by adding a Billable column on expense and purchase forms.
If you want to add a Customer column to expense and purchase forms, click in the first box pictured in the image above. To Make expenses and items billable, click in the second box and add a default markup rate if you want.
Now is the time to focus on the importance of cash flow and vendor relationships by maintaining good vendor payable records. You want to keep your relationships with your suppliers in good status. If you're having trouble tracking cash flow or dealing with any other element of your accounting, feel free to contact us.
At Summit CPA we offer QuickBooks consultation. If you would like further information on how we can assist you with your bookkeeping needs, contact our office at 866-497-9761 to schedule an appointment with our Virtual CFO.