Have you tried the QuickBooks online mobile app? If you haven't you should check it out to see all it has to offer. You will find that it's very convenient, especially if you travel for your job. Though most of the time you may use your desktop or laptop, the mobile app allows you to access your financial data and complete certain accounting tasks using your smart phone. In fact, you may be amazed at all you can accomplish using your smart phone. Have a look at the main menu in the app using the partial view of the Activity screen on the right side: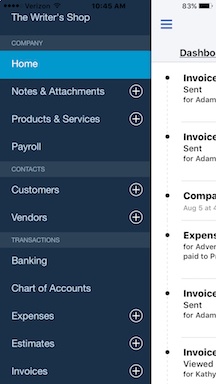 Although the QuickBooks Online smartphone app will not allow you to do everything available to you when using a browser-based version, you will have a lot of functionality.
After downloading the smartphone app, sign in using your user name and password. You will then see the home page is divided into 2 vertical sections, you will be able to toggle between them. Your Dashboard will display current account balances as well as a graph showing an abbreviated version of your Profit and Loss report and a graphical summary of paid and unpaid invoices. By clicking on Activity you can see a list of your most recent actions and transactions. In the upper left corner of the screen, click on the three horizontal lines and the app's main menu will drop down. This interactive list also serves as the app's primary navigation tool (see the image above).The data that you enter in the browser-based version (or anything added here) will then appear in list form when you click on an entry here. Click on the + (plus) sign to add customers, invoices, sales receipts, etc. You can also enter new transactions from each individual list screen.
Adding Transactions
Anyone that has ever worked with a mobile app knows that the user interface looks different then what you see in the full application version accessed through a browser. However, the QuickBooks Online app is very user friendly. Possibly easier than the browser based QBO.
For example, the New Expense screen has a camera icon at the top of the page. By clicking the icon you can take a picture of your receipt or you also have the option to enter the total manually in the field to the right. Below there are 3 buttons that represent Credit, Check, and Other, to show how you paid for your purchase.
You can enter a description of your expense by clicking on these links:
Who did you pay?
What kind of expense is this?
Who was it for?
After clicking on one of the above links, the app will open your list of related data. For example; when you click, "Who did you pay?" your list of payees will open. You can select one or add a new payee. If the expense can be charged to a customer, click on the "Billable" button. If you need to separate some items, click the "Add a Split" button. There's also room to add a Ref # and Memo. When you're done, click Save to add it to your main QuickBooks Online file.
Viewing Existing Information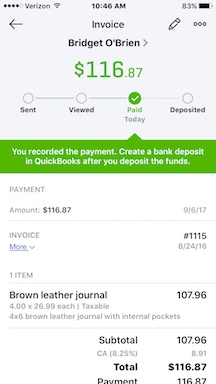 You can not only enter data in the QuickBooks Online app, you can also look up existing information.
You will also find that it's easy to find records and transactions that you have entered either in the browser version or on the app in QuickBooks Online. You will be able to follow the paper trail of an invoice as pictured in the screen shot above. QuickBooks Online will even prompt you to complete steps that you haven't taken. By clicking on the pencil icon in the upper right, you can edit the data that appears on the screen.
Warning! It can be risky to edit transactions that have already been processed. We can help you determine when it's safe to correct any errors that you have made.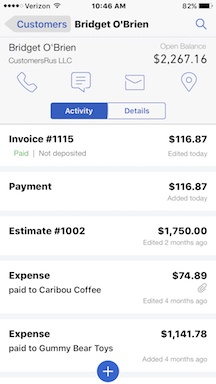 The QuickBooks Online app is also capable of providing a quick overview of customer activity, using links to actions.
Although you may never need to access your QuickBooks Online data remotely on your smartphone. If you do need help we can help you. At Summit CPA we offer multiple resources to keep your business on the right track. Contact our office at (866) 497-9761 to schedule an appointment with our advisors.