Are you were one of the lucky ones or just trying to reopen your business safely? As part of your job, do you or your employees travel for work? If this scenario fits your business, just as with all your financial information, it's important that you keep good records to track your tax deductible business mileage. In QuickBooks using the mileage tracking feature, you can record trips either automatically or manually to calculate your deductions. Here is how it works.
Manually Tracking Trips
If you haven't already, you'll want to create a record for the vehicle you'll be using. To add a vehicle, click Mileage in the navigation toolbar. Then, hover over the green Add trip button in the middle right of the screen, and click View Vehicles. Next, click Add vehicle and complete the fields on the screen that opens. Then click Save. Then, when you're back on the main screen, you can click directly on Add trip and the New trip panel will slide out from the right.
Now enter the Date, then the number of miles driven (Distance). You may also enter the Starting point and Ending point for your records. Then click either the Business or Personal icon and enter a Description. If you use more than one vehicle, select the correct Vehicle and click Save. Your trip will now appear on the main screen with your tax deduction already calculated, as shown in pictured below. Click the More button at the end of the row (not shown here), and you'll be able to Edit your trips and Duplicate them.
After you create a record for a trip in QuickBooks, it will be added to the list on the main Mileage screen.
Auto-Tracking Your Miles
There is another way to track your mileage that doesn't require reading and writing down you're the mileage from your odometer. You can automatically track your mileage while driving by using the QuickBooks mobile app.
You can set this up when you download the mobile app. Open the app and click on the 3 horizontal lines in the lower right, this will open the app's navigation shortcuts. Next, click the Mileage icon. By default, the Auto-tracking is turned off. You will need to click OFF to open the Mileage settings screen. Next, click the Auto-tracking button to change it from grayish to green. A small window will open, click Settings to go to the QuickBooks section of your phone's Settings screen and make these changes:
Location must be Always On.
Motion & Fitness must be On.
Background App Refresh must be On.
Cellular Data must be On.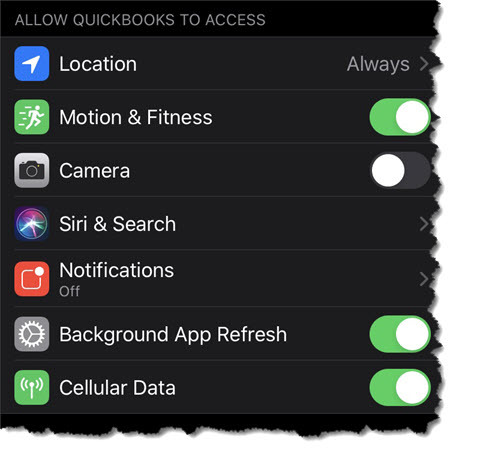 You'll need to change some settings (image above taken in iPhone; Android phones have similar settings) before
you can automatically track your mileage in QuickBooks.
Once you've changed your settings close this screen and return to the QuickBooks app's main Mileage screen. Your auto-tracking should be ON. Next, in the lower right click the + (plus) sign then Create trip. Using your phone's GPS, the app will automatically detect your starting and stopping locations.
Once you've arrived at your destination, open the Mileage app again. Swipe left on the trip's record to categorize it as business and right to mark it personal. Enter the trip's purpose if it's a business trip and click Save. You'll now need to turn off Auto-tracking and reverse the changes you made in your phone's Settings (unless, of course, you normally leave any of them on).
Tip: Have you ever find yourself opening QuickBooks in a new tab because you need to check something in another part of the site but don't want to shut down your current screen? If you're accessing QuickBooks through Google Chrome, it's easy. Right-click anywhere in the navigation toolbar that contains links (not the blank space below) and select Open link in new tab. A new tab will open to a QuickBooks page. You can do whatever you need to do in the second tab without disturbing your original page.
At Summit CPA, we offer QuickBooks consultation. If you would like further information on how we can assist you with your bookkeeping needs, contact our office at 866-497-9761 to schedule an appointment.