If you're a small business owner that dreads taking the time out of your busy day to update your bookkeeping, maybe you should try using QuickBooks. Having a good accounting system in place can make this routine, yet necessary task, much less tedious. In fact, once you get your system customized, you may actually decide bookkeeping is not so bad after all. For example, how long would it take you to figure out:
* Your total expenses for the quarter?
* How profitable your business is as of today?
* How much product you have sold each month this year?
* What invoices are overdue?
By using QuickBooks, in the time it takes to sign in, you could have all of these answers at your fingertips.
The QuickBooks dashboard, or homepage, is the first display you will see when opening QuickBooks. The dashboard provides a quick view of your finances with an assortment of charts and account balances. For example, if you click on a "checking account balance" you will be able to scroll down and see the details in an account register. When you click on the Expense graph, a transaction report opens.
Your First Hours with QuickBooks

There is no "one-size-fits-all" in QuickBooks. By using the setup tools you can customize it to meet the needs of your business.
QuickBooks works like other productivity applications you may have used in the past. It has buttons and toolbars to navigate, drop-down lists, and blank fields for data entry. It also has clickable links that will open new related screens to trigger actions. Once you understand the structure, this program is easy to use. Early steps that are required to set up your system involves tasks such as:
* Customizing the program using your setup tools.
* Connecting QuickBooks Online to your bank and credit card company websites so you can work with transactions.
* Creating records for your customers, vendors, as well as the products and services that you sell. As your business grows you will be able to add new customers.
* Familiarizing yourself with QuickBooks pre-built reports and workflow.
* Learning how to make transitions from your current accounting system.
How You'll Benefit
Faster payments. Signing up with a payment processor to accept credit cards and direct bank withdrawals may speed up your customers' responses to invoices. You'll also be able to accept payments on your mobile devices when you're out of the office.
Reduced errors. Once you enter data, QuickBooks remembers it. No more duplicate data entry that can cause costly mistakes.
Details at your fingertips. QuickBooks has powerful search tools that allow you to find what you're looking for quickly.
Provide better service for customers. You'll be able to deal with questions and problems quickly and accurately since your customer profiles include transaction histories.
Bill and invoice products. QuickBooks supports sales of time-based services using time-tracking tools.
Improve customer and vendor perception. By the forms you share and the customer service you provide, your business associates will know that you're using state-of-the-art technology.
Save money and time. It does take some time to make the transition to QuickBooks. However, you'll soon make that up with the hours you'll save on accounting tasks, and be able to concentrate on tasks that improve your bottom line.
Prepare to grow. You'll be able to quickly generate reports that help you plan for a more profitable future because all of your financial data is organized and easily accessible. If you decide to seek financing, your banks and investors will need some of these reports.
Mobile Access. While you likely do most of your accounting work on your desktop or laptop, you will have access to many features on your smartphone. Your QuickBooks home page will display both an abbreviated version of your browser-based dashboard and your recent transaction list. You will have the ability to view, build a new customer, edit vendors, and your product or service records. You can snap a photo of a receipt to document an expense and look up or create invoices, estimates, and sales receipts. You may also record payments, view critical reports, and add notes.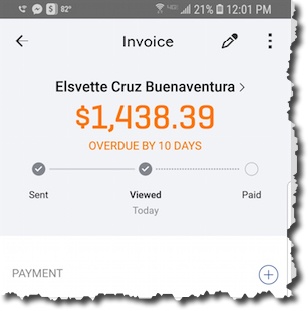 Even when you're away from the office, with its mobile app, QuickBooks still allows you do much of your accounting work.
QuickBooks was designed for small business. However, it includes features, like advanced reports, payroll, and the Chart of Accounts and you may need a consulting service that can access your data with the ability to monitor and troubleshoot.
At Summit CPA we offer QuickBooks consultation. If you would like further information on how we can assist you with your bookkeeping needs, contact our office at (866) 497-9761 to schedule an appointment with our Virtual CFO.