No matter how careful you are, every business can be susceptible to payroll fraud. Even if you only have a few employees, there is no guarantee that your cash will be safe unless you, as the owner, handle all the aspect of your accounting and payroll.
So, how can something like this happen? One way that payroll fraud could happen is when there is an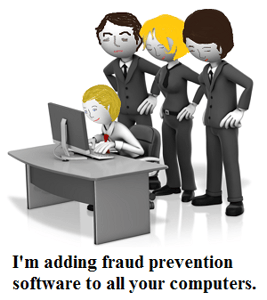 overpayment of payroll or withholding taxes. Your bookkeeper could simply withhold or overpay the government. Then when the refund comes in, the bookkeeper deposits it into his/her personal account. There have been cases where the employee might have an account in the company name at a different bank. These accounts can be used for fraudulent deposits and other business receipts.
The more employees the easier it is to pull off the payroll fraud. Your bookkeeper might create a fictitious employee or even falsely increase hours or commissions for another employee that may want to share the stolen funds. They could also hold the payroll deposits in a personal interest baring account until it's time to make the payroll tax deposit to the government.
What can you do to prevent payroll fraud? Large companies generally have good effective fraud controls in place. However, small businesses can be more susceptible to payroll fraud because they lack those protections of a larger company. Here are a few suggestions that may help your reduce or prevent the chance of payroll fraud.
* Hiring an independent accounting firm may help prevent employee fraud.
* Dividing up the office tasks may make theft more difficult.
* Limit access to payroll data. Using a "need to know" basis will ensure that only a few employees have access and will reduce fraud.
* Offer your employees direct deposits of their paychecks. This will leave less opportunities for handling the payroll and give you greater security.
At Summit CPA we offer multiple resources to assist you with all your financial needs. For more information contact our office at (866) 497-9761 to schedule an appointment with our advisors.