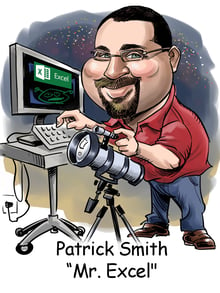 As a distributed company, not only do we serve our clients remotely, but our team members work remotely as well. We understand the accounting, bookkeeping, cash flow management, and tax nuances of running a distributed company. We pride ourselves on our ability to provide the highest quality Virtual CFO services and 401(k) Audits while working remotely with (and for) our customers, and we couldn't do any of it without our amazing team.
Every month we spotlight one of our employees so you can get to know us better.
This month we bring you: Patrick Smith. Patrick has been with Summit CPA Group for 3.5 years. He is a part of the accounting, IT, and training departments
Here are 10 things about our July employee spotlight, Patrick Smith!
Describe what you were like at age 10.
I was interested in video games, TV, and comic books. I was quiet and reserved, and I was genuinely interested in learning.


What has been your favorite project at Summit?
That's a tough question. I would have to say my favorite project was developing a multi-entity cash flow template. I got to use my Excel skills, and the clients that needed this template were happy with the results.


Do you recall any embarrassing moment at work?
This didn't happen at work, but it was right after while leaving the office a few years ago. I was speaking to someone on my cell phone, and it was extremely cold outside. I normally check my pockets for my wallet and phone. I tapped the pocket where I keep my phone, and I told the person, "I can't find my phone." The person told me to look in my hand. I'd like to tell you that's when I figured it out, but that wouldn't be true. I immediately looked in my hand with my keys and said, "Nope. It's not in my hand." They had to tell me specifically to check my other hand before I understood. I can laugh about it now.


Are you messy or organized?
At work, I'm organized. At home, I tend to have certain things in piles/stacks, but the piles/stacks are organized, even though they may appear messy to some.


What's your biggest pet peeve?
Professionally, it would be throwing people under the bus. There's no need for it. Personally, people who take their foot off the brakes and slowly run red lights. Running it slowly doesn't make it better.


What does true leadership mean to you?
True leadership means leading by example and inspiring people to get the best out of them. Leaders are honest, solicit opinions from others, and are vulnerable with others. There's a massive difference between being a manager and being a leader.


What was the last gift you gave someone?
I took family members to a nice dinner.


What is your number one distraction?
Emails tend to distract me, at least at times.


What are you currently watching on Netflix?
I finished the Big Show Show shortly after it became available. I just finished the most recent seasons of Mr. Iglesias and Alexa & Katie.


What's one takeaway from a recent speech/book/event you can't stop telling others about?
In a book called, "True Riches," the authors wrote, "If your family makes at or above the median income in the United States, you may be surprised to learn that, among ten randomly selected families from around the world, you'd likely be the richest. Even those who might feel poor in America – those earning $30,000 per year – are among the world's most financially blessed people." I don't mean for this to offend anyone, but it was an eye-opening statistic for me.



Want to work for one of the top 100 remote companies? Visit our career opportunities page.