The Virtual CPA Success Show: Episode 67
Are you an introvert who has trouble networking and marketing your brand or business? In this episode, Jamie Nau, our host and Summit CPA's Director of Virtual CFO sits down with Adam Hale, Partner at Anders CPAs + Advisors, and Monica Parkin, author of "Overcoming Awkward, an Introvert's Guide to Networking, Marketing and Sales. " She is an International Speaker, the host of the "Juggling without Balls" podcast and Director of Community Engagement for Invis Pacific View Mortgages. Overcoming Awkward is written to free introverts from the crippling social constraints that come with launching and growing their businesses and careers.
"I'm just authentic me. When I meet people, I don't talk about me and what I can do for you and what I do for a living. Ask questions about other people, like: Why are you here? What made you wanna do this business? What can you offer? Who can I connect you to?
It's adding value to other people. And one thing I've figured out is people notice people who notice them. Simple little things like giving someone else a shout out or sharing their post or saying, "Hey, I saw you the other day. That was great." It's bringing that sense of community into everything you do." - Monica Parkin

The finer details of this episode:
How to choose something that you're passionate about
How to contribute to your community in order for your business to thrive
Being a good listener and asking intentional questions
Being authentic when building your brand and networking
Episode resources: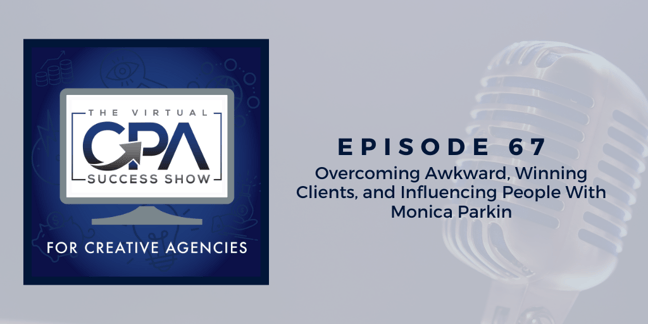 Share this podcast episode on Twitter:
The Virtual CPA Success Show for Creative Agencies 🎙️ by @SummitCPAGroup:
Episode 67 - Overcoming Awkward, Winning Clients, and Influencing People 👉 https://ctt.ec/YKdHo+
---
Want to listen to more Summit CPA podcasts