Hey Partner—We Got This!
Summit CPA Group partners with Navigate the Journey to facilitate our corporate leadership training and strategic planning processes. We started the partnership earlier this year when we invited Traci and Tom to help facilitate a StratOp workshop at our inaugural Leadership Team Retreat.

Through the StratOp process onsite, team members learned how other team members think, operate, and how they view success. It was insightful and important to see how everyone learns and processes differently. This shared understanding helped pave a new way to interact with each other to achieve goals. The team led by the Navigate the Journey facilitators, began brainstorming our mission statement: a huge undertaking that has since guided the actions of Summit CPA Group, and spells out its overall reason for existing. After three days together, we left with a renewed sense of purpose, unity, clarity, and focused action for the future. We even had the rough draft of our mission statement. But the learning and facilitating didn't end there. In fact, it was just the beginning.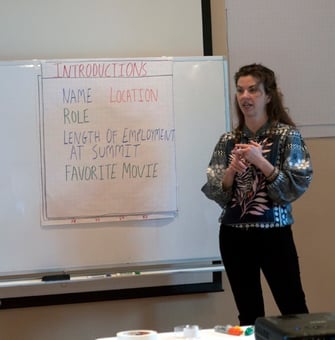 Since that time, the Leadership team meets regularly with Tom and Traci. The W.I.N. (What's Important Now) Initiatives outlined in the kickoff were well documented, and more importantly, diligently followed-up upon by Tom. Without the follow-up, the entire process would have been for naught because the typical excuses to not work on strategy would have continued. Implementing initiatives have helped to define the expectations from each member of the team and have created an avenue to seek feedback from different levels in the organization and also to improve in areas of weakness with the help of a mentor and process documentation. And speaking of mentoring, we didn't want Summit to be an "every man for himself" kind of place, especially as a distributed team. We are still in the process of implementation but without Navigate the Journey we wouldn't even be discussing a mentorship program. And, if it weren't for Tom checking in on us we would have quickly fallen back into our client-only focus. By having that reminder to focus on ourselves we have been able to make progress towards the goals we set.
Establishing core values for the company has been another key outcome of the StratOp sessions. First hand, we've seen the core values we defined being used in our hiring process. These guiding principles give the company a simple checklist whereby it can easily identify candidates.
Since partnering with Navigate the Journey, we have seen a tremendous acceleration in the realization of our corporate strategy and have even won a few "innovation awards" – being referred to as a disruptor and pioneer in the accounting industry.
If you are looking for an outside coach and advisor to help your company determine how to focus and grow as a company, as a team, or as a leader, then I highly recommending reaching out to Tom or Traci from Navigate the Journey.