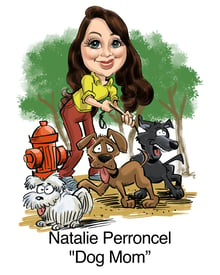 As a distributed company, not only do we serve our clients remotely, but our team members work remotely as well. We understand the accounting, bookkeeping, cash flow management, and tax nuances of running a distributed company. We pride ourselves on our ability to provide the highest quality Virtual CFO services and 401(k) Audits while working remotely with (and for) our customers, and we couldn't do any of it without our amazing team.
Every month we spotlight one of our employees so you can get to know us better. This month we bring you Natalie Perroncel. Natalie has been with Summit CPA Group for over a year. She is on our 401(k) Audit team.
Here are 10 things about our September employee spotlight, Natalie Perroncel!
What is one important skill that you think everyone should have?
I think patience is very helpful in all aspects of life and is an important skill to work on for everyone.


There are now 25 hours in a day! How do you spend your extra hour?
I started taking pottery classes this year and recently invested in getting a pottery wheel at home, so I'd probably spend that extra hour working on that!


What is one thing you are looking forward to doing when you retire?
Hopefully lots of traveling!


What is one of your greatest achievements?
I went to a dual enrollment high school in my town, so it would be graduating high school with an associate's degree and 4.0 as Valedictorian.


What activity helps you relieve stress?
Pottery is a big stress reliever, throwing on a pottery wheel is like a form of meditation.


When you were a child, what did you want to be when you grew up?
Vet or elementary school teacher.


Science fiction. Love it or hate it?
Hate it for the most part. I'm a scaredy cat and most Sci-Fi is too much for me.


If you could only pick three foods to eat for a month, which foods would you choose?
Spaghetti. Krispy Kreme doughnuts. Rice and gravy (clearly very healthy over here)


What is a unique skill you bring to your job?
I think I try to always look for ways to do things most efficiently.


What movie can you watch over and over again?
Definitely Dirty Dancing, and I already have!

Want to work for one of the top 100 remote companies? Visit our career opportunities page.